South Carolina Legislators Vote to Take Down Confederate Flag
The debate lasted until early Thursday morning.
by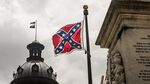 The South Carolina House voted early Thursday to remove the Confederate flag from the state's capitol grounds, the Associated Press reported. 
Legislators began considering removing the flag after last month's mass shooting at a black church in Charleston. The legislation came amid calls from both parties, including former Republican presidential nominee Mitt Romney, President Barack Obama, and many of the 2016 White House candidates to remove the flag. 
The bill, which won final House approval 94-20 after passing in the state Senate, will go to Republican Governor Nikki Haley, who is in favor of removing the flag. The House debate ran into the wee hours and included emotional testimony.
"I cannot believe that we do not have the heart in this body to do something meaningful, such as take a symbol of hate off these grounds on Friday," Republican Representative Jenny Horne said.
—Drew Gibson contributed to this report. 
Before it's here, it's on the Bloomberg Terminal.
LEARN MORE