Schumer Open to Short Highway Patch With Tax Bill
Kathleen Miller and Richard Rubin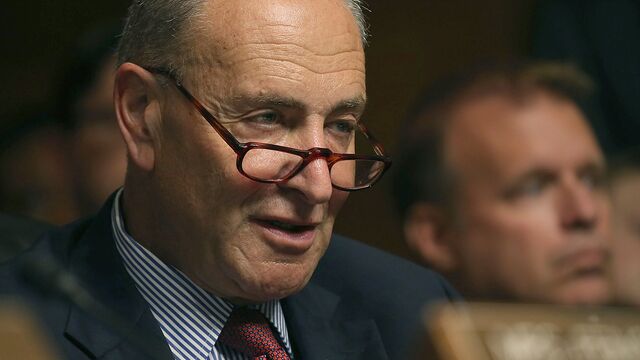 Democrats might be willing to accept a short-term U.S. highway funding measure this month if they believed Congress would pass tax legislation in the next few months, Senator Chuck Schumer said Thursday.
"We need to see some broad support that people would have confidence that over the next three or four months we could actually get the international tax reform bill done," Schumer of New York, the chamber's No. 3 Democrat, told reporters at the Capitol.
"We're beginning to see some support, but we would want to see some more support congeal over next few weeks and then I think a shorter term proposal would acceptable," Schumer said.
The highway trust fund's legislative authorization to spend money expires at the end of July. Lawmakers are debating whether to enact a short or longer-term extension, and how to pay for it.
Schumer and Republican Senator Rob Portman of Ohio are trying to link major changes in the international tax system to highway funding. They have proposed offering tax breaks to companies that generate profits from patents and other intellectual property in the U.S. The current system encourages companies to shift such profits to low-tax foreign countries.
Lawmakers are far from an agreement on revamping the international tax system with disagreements over the broad goals and the details. The general concept has support from President Barack Obama and House Ways and Means Chairman Paul Ryan, a Wisconsin Republican.
McConnell, Hatch
Other Republicans are less interested, including Senate Finance Chairman Orrin Hatch and Majority Leader Mitch McConnell. Highway advocates also are concerned that the tax changes wouldn't provide a long-term stable funding stream beyond the first few years.
Schumer and other Democrats criticized McConnell Thursday for saying the chamber probably would consider transportation funding legislation next week without disclosing details of such a measure.
"We want to see what the Republican plan is," Schumer said. "We don't like a short-term extension, but let's see what they have. What does a patch mean?"
The idea of using a revamp of the international tax system to fund U.S. transportation needs is "growing in support," Schumer said. He defended the concept as "the only alternative out there."
'Robust' Plan
"If you want a robust, long-term plan and you need to fund it, no one has offered an alternative," Schumer said.
Senator Barbara Boxer, the top Democrat on the Senate Environment and Public Works Committee, said House Speaker John Boehner told her during a "chance meeting" that he wants a long-term highway funding bill.
"That was music to my ears," Boxer said at the press conference. "If we have that kind of push over in the House, and we now see some progress with Paul Ryan on pay-for, let's get it done."
Grover Norquist, president of the anti-tax group Americans for Tax Reform, said on Twitter that a one-time tax on stockpiled foreign earnings, known as deemed repatriation, shouldn't be used for spending without offsetting tax cuts.
That, he said, would be a tax increase and a violation of the no-tax-increase pledge most congressional Republicans have taken.
"The chairman has already made clear he's opposed to a deemed repatriation without broader reforms," said Brendan Buck, a spokesman for Ryan. "Any package we produce will not be a tax increase."
Before it's here, it's on the Bloomberg Terminal.
LEARN MORE