John Kasich's Lehman Days Create Rorshach Test for Viewing His Career
The Ohio governor faced learning a curve at the Wall Street firm.
by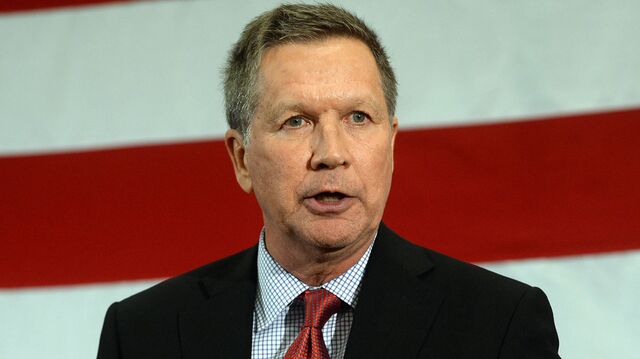 John Kasich knew "close to zero" about investment banking in 2001 when Lehman Brothers Holdings Inc. hired him after serving 18 years in Congress, and it was Gary Weinstein's job to teach him.
Weinstein created a presentation with the basics for Kasich to study as he prepared for his general securities representative exam. Kasich worked hard as a managing director, and by the time he left in 2008 after the firm's bankruptcy that ushered in the recession, he was a veteran of initial public offerings and other deals.
"I remember feeling this was going to be an uphill battle, and this guy doesn't know anything," said Weinstein, the former chief administrative officer for investment banking and Kasich's boss. "He had the right attitude, and he stuck with it and he never gave up."
Kasich's Lehman career, which included deals for companies from Google Inc. to Cleveland-based manufacturer ParkOhio, will test the presidential campaign that the two-term Ohio governor plans to start this month.
While his opponents have depicted his stint at the doomed bank as a period during which he cashed in as millions suffered, Kasich makes the case that he gained finance experience that made him a better public official.
"If people want to attack me, I'll tell them what I did, and I think it's been great," Kasich said in an interview Wednesday during a visit to South Carolina.
The question of what Kasich did during the class war pervaded his campaign for governor.
"Thousands of Ohioans lost their life savings as a result of the Lehman Brothers bankruptcy," former Governor Ted Strickland said during an October 2010 debate. "My opponent walked away with a big $400,000 bonus."
Kasich was hired at Lehman with the help of William E. "Wilber" James, general partner of RockPort Capital Partners in Boston.
James said he befriended Kasich during a trip to Africa with lawmakers in 1988. When Kasich was considering what to do after leaving Congress in 2000 following a failed presidential run, James introduced him to Richard "Dick" Fuld, a boarding-school friend who was Lehman's chairman.
"John wasn't one of these glad-handing guys," James said. "They hired him for his chutzpah, his intellect, his ability to think about different things."
Weinstein and other former colleagues describe him as a facilitator, forging relationships and working with Lehman teams in areas including manufacturing, media and technology. While Kasich's experience, connections and understanding of politics were helpful, he wasn't just a rainmaker, said Weinstein, now retired in Greenwich, Connecticut.
"It was a little bit more who John was than what he had done," Weinstein said. "We saw his Washington experience and his name recognition as a slight positive, but it wasn't what was driving the bus."
Glenn H. Schiffman, who was global head of Lehman's media group, said Kasich used contacts in Silicon Valley with venture capitalists such as Mark Kvamme, a former partner at Sequoia Capital in Menlo Park, California, to generate business.
"Did John do the numbers? No," said Schiffman, now a senior managing director at Guggenheim Partners LLC in New York. Yet, "We would not have done as well without John."
Kasich said he could often speak to decision-makers as a peer.
Working between his office in Columbus and New York, where he also hosted a weekly television show on Fox, Kasich played a modest role on the Lehman team that worked on Google's initial public offering in 2004, Weinstein said. Kasich also participated in other deals including debt offerings and acquisitions and offered strategic advice.
After the Sept. 11, 2001 terrorist attacks, Kasich facilitated a working group with government and venture-capital officials to address money-laundering, cybersecurity and other technology issues in the Defense Department, said Ted Schlein, general partner at venture firm Kleiner Perkins Caufield & Byers in Menlo Park, California.
Yet Kasich's Lehman work almost kept him from becoming governor. When Kasich challenged Strickland, the incumbent Democrat focused his campaign on Kasich's "Wall Street values" and said Kasich profited from damage that investment banks did to the economy.
Lehman Brothers, once the fourth-largest investment bank, filed for bankruptcy in September 2008 after suffering losses from risky investments in subprime mortgages, leading to the worst recession since the Great Depression.
Kasich won his 2010 race by a mere two percentage points.
With Kasich preparing to run for president in a season of debate over inequality, that criticism is surfacing again.
"There is one question voters ask when they go to the ballot box: will this candidate look out for me?" Democratic National Committee spokesman Jason Pitt said in a release. "We know the answer when it comes to John Kasich."
Kasich has maintained that, as one of 700 managing directors -- and one based in Columbus -- he wasn't responsible for decisions that helped bankrupt the company.
"People would have thought probably that somebody like me, coming out of where I was, that I'd be like hanging out at board meetings and helping to make executive decisions," he said Wednesday. "I was basically just a hard-working banker traveling the country."
Five years ago, Kasich allowed reporters to view his 2008 tax return, saying it was typical. It showed that he was paid a $182,692 salary from Lehman, with a $432,000 bonus and $2,250 in other benefits.
"In our world, John was not paid like a rock star," Weinstein said. "But in middle America, it still might be seen as quite a lot."
While the criticism of Kasich's Lehman days may be good politics, a president should understand capital, Schlein said.
"Like Wall Street, hate Wall Street, whatever your position is, it is the financial engine that makes the country go around," he said. "How can you not want a better understanding of it, regardless of what your opinion is?"
Before it's here, it's on the Bloomberg Terminal.
LEARN MORE