Jeb Bush Team Says It Raised $114 Million in Early Months
The total reflects fundraising by the Bush campaign and Right to Rise, a super-PAC supporting the former Florida governor.
by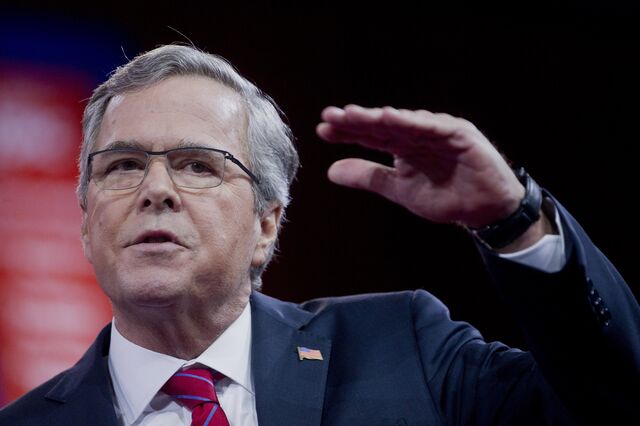 Republican presidential candidate Jeb Bush and his supporters have raised more than $114 million in the early months of his campaign.
The total, which reflects fundraising by the Bush campaign and Right to Rise, a super-PAC supporting the former Florida governor, makes Bush the unrivaled leader of the presidential field when it comes to revenues. The next-closest White House contender is Hillary Clinton, whose campaign and allied super-PACs have raised nearly $70 million.
Numbers disclosed by all of the presidential candidates campaigns so far underscore the outsized influence that super-PACs and other outside organizations are likely to have on the 2016 race for the White House. Bush's presidential campaign committee reported collecting $11.4 million in the first 16 days of his bid for the White House, according to a post on Twitter by his campaign. But Right to Rise, the super-PAC run by Mike Murphy, who has been one of Bush's closest advisers, reported raising nine times as much.
A statement issued by Charlie Spies, the treasurer for Right to Rise, reported that the money came from 9,900 donors. Of those, 500 gave more than $25,000 apiece. Super-PACS, legal entities that emerged after a landmark 2010 Supreme Court decision that upended campaign finance regulations, are permitted to collect and spend money in unlimited amounts on behalf of candidates, as long as they do not "coordinate" with them. Candidates' committees can't collect more than $5,400 from an individual during a two-year campaign cycle.
The super-PAC already has made its first public expenditure: a digital spot aimed at Democratic presidential candidate Hillary Clinton that is being targeted in New Hampshire and Iowa through July 13.
Bush's campaign committee's total reflects money raised from June 15, the day he officially launched his presidential bid, to the end of the second quarter on June 30. 
Despite the short window for fundraising by Jeb 2016, Bush's total compares favorably to other Republican candidates who have been raising money directly for their campaign for months. Senator Ted Cruz, who was the first major candidate to announce his campaign on March 23, said he has $14.2 million in his official campaign. Retired neurosurgen Ben Carson, who officially entered the race May 3, said he has $10.5 million.
On the Democratic side, Clinton said her campaign committee raised $45 million. Senator Bernie Sanders trails her with $15 million.
In the sibling rivalry department, Bush also managed to best his brother, George W. Bush, whose first campaign finance report was considered record breaking when the then-Texas governor was beginning is first run for governor. The George W. Bush presidential exploratory committee reported raising $7.6 million in its first 24 days of existence. That's $10.8 million in today's dollars
Also on Bloomberg Politics: Candidates Start Showing Their Fundraising Cards
Bush spent the first six month raising money for his super-PAC and an affiliated political action committee, also called Right to Rise. His team was aiming to collect $100 million in the first three months of the year, and he started spreading money around in such a way that suggested he was having some success.
Bush told donors that he'd raised record-breaking amounts of early money. And Murphy told super-PAC donors that fundraising totals were going to give opponents "heart attacks," according to a BuzzFeed report.
A number of other candidates in the presidential field have yet to reveal how much money they have raised. All candidates in the race by June 30 are required to make those numbers public by July 15 in filings to the Federal Election Commission. 
CORRECTION: An earlier version of this story incorrectly stated the number of days the campaign has been officially fundraising.
Before it's here, it's on the Bloomberg Terminal.
LEARN MORE