Cuomo Instructs De Blasio on Albany as Their Feud Escalates
Freeman Klopott and Henry Goldman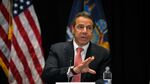 New York Governor Andrew Cuomo is giving lessons to Mayor Bill de Blasio on the workings of the state capital.
The state's two most prominent Democrats have been publicly feuding since last week when de Blasio sat down with reporters and vented that he's "disappointed" with Cuomo, whom he's know for 20 years. The move followed anonymous attacks by Cuomo officials in news reports, including in the Wall Street Journal, which carried a quote criticizing the mayor as "bumbling and incompetent."
Their quarreling continued Wednesday with Cuomo saying the mayor doesn't understand how politics works in Albany.
"I understand the mayor didn't get everything he wanted; I understand he was frustrated," Cuomo said in a television interview on NY1. "I didn't get everything I wanted."
Albany, Cuomo said, has a divided legislature with Republicans in control of the Senate, which the governor said is "opposed to everything I want to do," including raising the minimum wage and providing scholarships to undocumented immigrants. To get things done, he said, "you seek compromise because you believe in government and the way government works."
At a news conference in Brooklyn Thursday, de Blasio said he doesn't need lessons from the governor, he knows how government works and that it takes compromise to get things done.
"I'm very comfortable with the right use of compromise in government," de Blasio said. "I'm not comfortable with business as usual in Albany."
The pair, who worked together in the U.S. Housing and Urban Development Department when Cuomo ran it for President Bill Clinton, were at odds from the moment the mayor took office in January 2014.
Revenge Vendetta
Cuomo refused to support de Blasio's income-tax increase on the wealthy to fund universal pre-kindergarten, undermining the imagery de Blasio crafted on the campaign trail as a crusader of closing the divide between rich and poor.
The feud became increasingly rancorous over the past month as de Blasio pressed lawmakers in Albany for stronger rent regulations, new rules for a tax abatement for developers who build affordable housing and permanent control of the city's schools. Cuomo, with the help of Republicans who control the Senate, stymied de Blasio.
De Blasio said last week that despite the fighting, he got much of what he wanted with the tax abatement. He said mayoral control of the schools, "turned into a political football." He said he couldn't find any senators, Republican or Democrat, who supported just a one-year extension. Cuomo had said publicly he supported a three-year extension.
De Blasio also said in a NY1 interview last week that he expected Cuomo to react to his comments with retribution.
"If someone disagrees with him openly, some kind of revenge vendetta follows," de Blasio said.
When asked about a potential vendetta on Wednesday, Cuomo said, "I don't know what that means."
Before it's here, it's on the Bloomberg Terminal.
LEARN MORE