Your Daily Dose of Donald Trump, Unhinged and Mansplaining
In a TV interview, he seemed to find it easier to criticize his questioner than to engage on issues.
by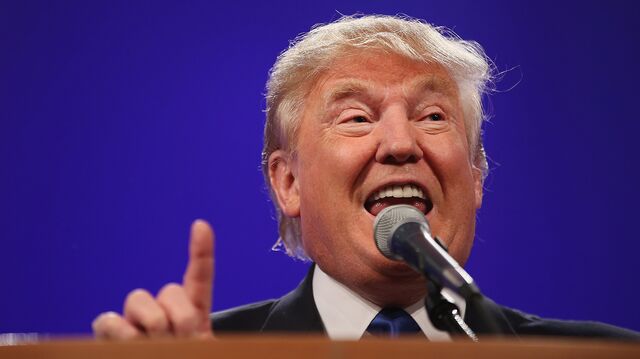 On Wednesday afternoon, a reporter asked Donald Trump, a candidate for president of the United States, about his brash speaking style, and whether it might induce ire in the delicate dance that is international diplomacy. His first response was not to answer the question, but to, well, protect the reporter, NBC News' Katy Tur, from herself.
"Do you want to change the word?" he asked, not quite bothering to feign politeness. "Are you allowed to use that word on television?" Tur had used the phrase "piss off." 
In an unedited interview posted on NBC, Trump seemed to find it easier to criticize his interviewer than to engage on issues. When she mentioned the incarceration rate for immigrants: "Oh, give me a break, Katie." Then: "It's a wrong statistic, go check your numbers"; "if you believe that, I don't care"; "I've been saying this for a long time, Katie, and it's a disgrace. And frankly if I didn't even bring it up, you wouldn't even be talking about immigration right now." 
Not to mention: "Excuse me," three times, in crescendo, as Tur tried to speak. He went on, "You're not bringing up anything new, you know. You act like you're the great reporter, bah bah bah."
At one point, Tur cited Pew Research on crime and immigration—or tried to. Trump cut her off. "Don't be naïve," he said. "You're a very naïve person."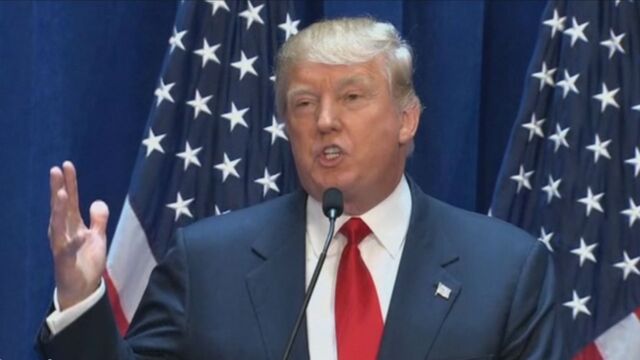 She went on, just a tad tongue-tied. "Come on, try getting it out," he said. "Try getting it out. I mean, I don't know if you're going to put this on television, but you don't even know what you're talking about. Try getting it out, go ahead."
Come to think of it, though, the treatment he showed Tur may be his default. It's how he talks to companies, too: "NBC is weak"; "Macy's, NBC, Serta and NASCAR have all taken [a] weak and very sad position"; "NASCAR has already apologized to me!"
Trump: the man who mansplains to the world.
On campaigning:
"Nobody gets as many standing ovations."
"I get the biggest crowds, I get the biggest standing ovations. And I guess you see it in the poll numbers. And I don't even care about it."
On immigration:
"In some ways I'm the most popular person in Arizona, because of my stance."
"We don't even have a border. People are just flowing through like water."
"You wouldn't even be hearing about the word immigration if it wasn't for Donald Trump. Illegal immigration is a word—I brought the whole subject up."
On his priorities:
"Our country's going to hell. I'm concerned about everything."
On his success:
"I went to the best school, got the best—great marks—everything else, I went out, I made a fortune, a big fortune, a tremendous fortune, I'll be announcing that in about a week, because I have to file my papers. Bigger than people even understand. I have a book called The Art of the Deal, I do The Apprentice. The Art of the Deal was like the number one business book of all time, I think it was."
On the Mexican-born workers he employs:
"They love me, I love them." (Echoing what he told Mark Halperin and John Heilemann about Neil Young.)
On Hillary Clinton:
"Hillary Clinton was the worst Secretary of State in the history of the United States."
"Hillary would let everybody come in, killers, criminals, drug dealers."
Before it's here, it's on the Bloomberg Terminal.
LEARN MORE