Would Lindsey Graham Back an Invasion of Iran?
"I would use whatever force is consistent with" stopping the Islamic Republic from getting a nuclear weapon, the Republican presidential candidate said.
by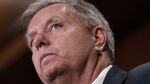 Republican presidential candidate Lindsey Graham said Wednesday he would be prepared as commander-in-chief to do "whatever" would stop Iran from acquiring  nuclear weapons.
While the South Carolina senator said he was "not going to invade Iran using ground forces" or "do anything else as long as there's hope for negotiations," he did suggest he hasn't ruled out putting American boots on Iranian ground. "If I see a nuclear breakout, then we're going to stop it," he told an audience at the Atlantic Council in Washington on Wednesday, one day after six nations, including the United States, attempting to negotiate a nuclear deal with Iran had to extend their self-imposed negotiating deadline. "I would use whatever force is consistent with stopping the breakout."
Warning of a "a nuclear arms race in the Mideast," Graham said the threat of an "overwhelming" response against nuclear facilities that would also target the Iranian Navy and Air Force was key to extracting a deal from the Islamic Republic.  
His message to Iran if he were president: "I don't want a war. But if that's what you want, you're going to lose it."
Neither Graham's Senate office nor his campaign had an immediate request to questions about whether his comments amounted to an endorsement of a ground invasion.
Any military action would run up against obstacles, including the lack of good intelligence on the country, its military, its infrastructure, and its leaders' intentions, dating to Iran's shutting down CIA operations in the country, U.S. officials speaking on condition of anonymity have said in the past.
Graham, though, has said he favors the use of ground troops in a variety of situations on the advice of military commanders. During his appearance, Graham also outlined his vision for 10,000 troops in Iraq to combat the terror group Islamic State there, a coalition invasion of Syria to remove president Bashar al-Assad from power and combat the Islamic State, and the maintenance of a near-10,000-strong force in Afghanistan—all with long-term assignments if necessary.
"I'm offering a generation commitment to young people, women, and the disenfranchised" in those countries, he said.
A protestor in the audience from the pro-peace group CODEPINK at one point said that Graham's foreign policy ideas would mean "a prescription for endless war."
Despite his proposals, Graham said he would take back one of the ground invasions he helped launch.
"If I'd known then what I know now, I wouldn't have invaded Iraq," he said.
A recent survey of more than 2,000 Americans by the Chicago Council on Global Affairs found as many as 81 percent of Republicans would support "the use of US troops to stop Iran from obtaining nuclear weapons." Graham currently receives support only about one percent of Republicans nationally. He suggested some of his fellow Republican candidates didn't understand the stakes and dynamic in the region.
"If you're too war-weary, don't vote for me," Graham said.
Before it's here, it's on the Bloomberg Terminal.
LEARN MORE