Scott Walker Plans to Visit Five States Next Week After Announcement
He plans to travel by RV to visit each of Iowa's 99 counties.
by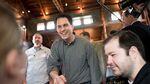 Wisconsin Governor Scott Walker is going to earn some serious frequent flier miles next week.
The presidential campaign-in-waiting on Wednesday released a travel schedule for the days following his upcoming announcement that will take the two-term Republican to the early primary and caucus states of Nevada, South Carolina, New Hampshire and Iowa.
Walker will announce his campaign plans Monday afternoon in suburban Milwaukee, just west of his home in Wauwatosa, Wisconsin.
What he's planning to announce is loudly signaled by what Team Walker says will come next: On Tuesday, Walker is scheduled to appear in Las Vegas. The following day, he has three stops planned in South Carolina, followed by two in New Hampshire on Thursday.
On Friday, Walker will start a three-day swing across Iowa, the first-in-the-nation caucus state where expectations for his performance are the highest because of his consistent lead in early polling there and his status as a Midwest neighbor.
He's acting like a native too: Walker plans to travel by recreational vehicle in Iowa as he pursues his just-announced pledge to visit each of the state's 99 counties, sometimes called the "full Grassley." Iowa Governor Terry Branstad and Chuck Grassley, the state's senior senator, typically visit every county each year.
A stop is also planned next week for Atlanta, according to Walker spokeswoman AshLee Strong. Georgia is one of several southern states holding primaries on March 1.
Walker is flying commercially for the entire trip, according to his aides.
(CORRECTION: An earlier version of this post incorrectly reported Walker would be flying by private jet.)
Before it's here, it's on the Bloomberg Terminal.
LEARN MORE