Sweltering Heat, Pouring Rain and Misery at Iran Nuclear Talks
Homesick negotiators are fueled by Twizzlers, gelato and strudel.
by and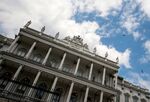 Sweltering heat, pouring rain, fraying nerves and a serious ice cream shortage are settling in atop cabin fever and fatigue at the Iran nuclear talks in Vienna.
Twelve days into what's been billed as the final round of high-level talks after 22 months, soaring temperatures haven't made it any easier for diplomats to keep their cool. As the mercury hit 97 degrees Fahrenheit (36 degrees Celsius) on Tuesday, U.S. Secretary of State John Kerry and Iranian Foreign Minister Mohammad Javad Zarif were overheard shouting at each other, and Viennese waiters yelled at less prominent diners for asking to split a bill four ways. 
These are times that try even the most determined negotiator's patience: A White House statement issued late Wednesday Washington time said that on a "secure video conference" with Kerry and the Vienna negotiating team, President Barack Obama "reviewed the progress of negotiations to date."
Inside the stuffy U.S. delegation room, where nuclear and sanctions advisers crunch numbers and run computer models, often until 3 a.m., exhausted officials are marking time by tracking how much junk food they've consumed as if they were tallying Iran's enriched uranium. 
In a burst of transparency about the secret talks, the U.S. team revealed Tuesday that since the start of June it had consumed hundreds of pods of espresso, 10 pounds of strawberry licorice Twizzlers, 30 pounds of mixed nuts and dried fruit, 20 pounds of string cheese, more than 200 Rice Krispie treats—plus three liters (3.2 quarts) of Zanoni & Zanoni gelato on Monday alone.
'Important Notice'
Such openness is an exception: American journalists traveling with Kerry learned that negotiators wouldn't meet their self-imposed Tuesday night deadline when they spotted a sign in their hotel lobby. "Important Notice for US Delegation: Your reservation has been extended. Please be so kind and pick up your new room key."
The delegates have joked about who'd play them in a movie version of the Iran talks—silver-haired Ted Danson would be Kerry—and after months of communicating with their families via FaceTime and late-night telephone calls, they're hoping the talks will be done in time for vacations planned in August.
Last week's was the second Fourth of July in a row that the team has spent in Vienna trying to prevent explosions instead of watching fireworks at home with their families. Officials calculate that they've made 69 trans-Atlantic trips since the start of last year, with one negotiator flying 400,000 miles in that time.
Rainclouds finally opened Wednesday, drenching diplomats rushing to meetings and photographers chronicling their every move. Wind and rain pounded noisily on the canvas media tent where hundreds of journalists are hostages to events.
In what passes for entertainment, pro-Israel protesters blasted music into the press tent. Fueled by a constant supply of highly enriched Viennese chocolate wafers, some reporters fled to the leather banquettes of the nearby Marriott Hotel lobby for coffee and strudel.
Before it's here, it's on the Bloomberg Terminal.
LEARN MORE