Lindsey Graham: 'Somebody Needs to Take the Shovel Out of Donald Trump's Hands'
The Republican Party has a problem with Hispanics and Trump is making it worse, the senator says.
by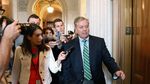 Republican presidential candidate Lindsey Graham said Wednesday that his party "is in a hole with Hispanics" and primary rival Donald Trump is making matters worse.
"The first rule of politics when you're in a hole is stop digging," Graham, a South Carolina senator, said at an Atlantic Council event in Washington. "I think somebody needs to take the shovel out of Donald Trump's hands."
Trump called Mexican immigrants "rapists" at a speech announcing his campaign last month, provoking backlash from companies he did business with as a real estate mogul and reality TV personality, and from fellow Republicans, many of whom see inroads with Latino voters as key to winning back the White House.
Trump, who appears on track to make the cut for the first televised primary debate on Aug. 6, is now saying he would win the Latino vote because of his jobs platform, NBC News reported Wednesday.

Graham, who signed onto a bipartisan immigration overhaul proposal in the Senate in 2013 as part of the so-called Gang of Eight, suggested Trump wasn't qualified to talk about the issue.
"I don't need a lecture from Donald Trump on border security," Graham said. "Stop yelling about it and get Democrats and Republicans to work together."
"Why would any group listen to your economic plan if you're going to deport their grandmother?" he said.
Graham also knocked Democratic front-runner Hillary Clinton, who told CNN Tuesday that Republicans "range across a spectrum of being either grudgingly welcome or hostile towards immigrants" and chided the party for not going farther to denounce Trump. 
Clinton, who served as secretary of state from 2009 to 2013 after eight years in the Senate, laid out a sweeping immigration platform in May including a "full and equal" path to citizenship for undocumented immigrants.
"Hillary Clinton never lifted a finger," said Graham of her time as the nation's top diplomat. "I been in every gang you can be in in the Senate. If we had tattoos, I'd have an armful. I don't remember seeing her once."
Before it's here, it's on the Bloomberg Terminal.
LEARN MORE