Iran Would Exploit U.S. Pullback From Mideast, Says Nominee to Head Joint Chiefs
Tony Capaccio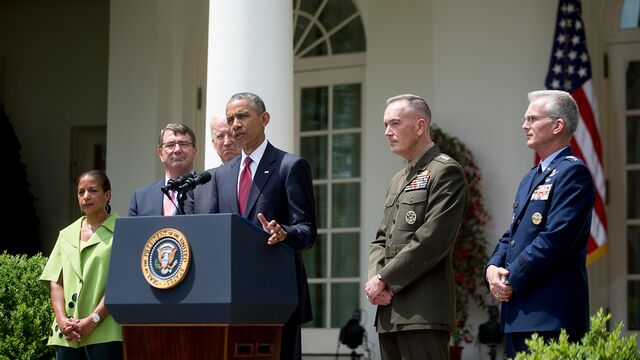 President Barack Obama's nominee to serve as the next top U.S. military officer said Russia poses the most pressing threat to national security, ranking it above dangers from terrorists and from nations such as China and North Korea.
"If you want to talk about a nation" that "could pose an existential threat to the United States, I'd have to point to Russia," Marine General Joseph Dunford told the Senate Armed Services Committee during his confirmation hearing Thursday to become chairman of the Joint Chiefs of Staff. "And if you look at their behavior, it's nothing short of alarming."
Dunford cited Russia's aggression in supporting separatists in Ukraine, as well as its arsenal of nuclear weapons. White House spokesman Josh Earnest distanced himself from the remarks by Obama's nominee, telling reporters hours later that the general's comments didn't necessarily reflect a "consensus analysis" of the administration's national security team.
In another break with Obama, Dunford said he'd support sending Ukraine's military more modern U.S. ground radar for locating massed Russian and separatist artillery, along with the Army's most modern shoulder-launched anti-armor weapon, the Javelin, and the widely used TOW anti-tank missile. Dunford, who's now the Marine Corps commandant, responded to a question about sending those weapons from Republican Senator John McCain of Arizona, the committee's chairman, who's chided the president for failing to do so.
"I think it's reasonable that we provide that support to the Ukrainians," Dunford said. "And frankly, without that kind of support, they're not going to be able to protect themselves against Russian aggression."
Iran Concerns
In written responses to questions from the committee, Dunford warned that any reduction in the American military presence in the Middle East could "leave space" for Iran to create a "compliant, Shia-dominated" Iraq.
"U.S. military presence gives credibility to the military options" and "demonstrates our commitment to our regional security partners and deters Iran from employing its large conventional army or ballistic missiles and from interdicting the Strait of Hormuz," Dunford said.
As envoys of the U.S. and other world powers are in Vienna seeking to negotiate an agreement to curb Iran's nuclear program in return for easing economic sanctions, Dunford conveyed a message of continued vigilance against Iranian efforts to dominate its neighbors and support terrorism.
Asked his assessment of the campaign against Islamic State terrorists in Iraq and Syria, Dunford said, "Militarily we are making moderate progress."
"However, the current strategy depends on the development of reliable ground partners and on progress toward inclusive political systems in Iraq and Syria," he said. "If we get an indication that the other lines of effort cannot make the necessary progress, we should re-examine the strategy."
F-35 Review
Concerning Lockheed Martin Corp.'s F-35, the Pentagon's most expensive weapons program ever, Dunford disclosed that the services are analyzing whether the planned 2,443 Air Force, Navy and Marine Corps aircraft "is the correct number."
"Until the analysis is complete, we need to pursue the current scheduled quantity buy to preclude creating an overall near-term tactical fighter shortfall," he said.
Dunford said he didn't endorse a recent statement by Navy Secretary Ray Mabus that the F-35 "almost certainly will be" the nation's last manned aircraft.
"While robotic and autonomous systems technology has advanced greatly over the past decade, I believe it is premature to rule out manned fighter aircraft without a more thorough analysis of the technologies currently available, as well as those likely to be available in the future," Dunford said.
Before it's here, it's on the Bloomberg Terminal.
LEARN MORE