Eric Holder's Job Prospects Were Too Big to Fail
The former attorney general is giving his critics a new round of ammunition by returning to Covington & Burling, whose corporate clientele has included Bank of America, Citigroup, JPMorgan Chase and Wells Fargo.
by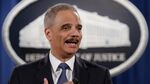 This is an excerpt from Bloomberg's daily Opening Line column.
The day Eric Holder became U.S. attorney general—Feb. 3, 2009—a front-page story in the New York Times declared, "Wall St., a Financial Epithet, Stirs Outrage and Punch Lines." Bloomberg headlined a story, "FDIC Boosts Estimate for U.S. Bank Failures Costs."
Holder had no shortage of "top priorities" during his years at the Justice Department: voting rights, cybersecurity, drug laws. But given what was going on when he took office, he was bound to be measured on how his Justice Department responded to the worst financial crisis since the Great Depression.
He had his moments, including a string of multibillion-dollar penalties against financial institutions that culminated with a $16.7 billion settlement with Bank of America. But as Tom Schoenberg wrote last fall, Holder "spent much of his almost-six-year tenure defending the Justice Department's record of few Wall Street prosecutions." 
Holder, who left office in April, is giving his critics a new round of ammunition by returning to Covington & Burling, the Washington-based law firm with a corporate clientele that has included Bank of America, Citigroup, JPMorgan Chase and Wells Fargo. 
"If we had a more aggressive media, this would be an enormous scandal, more than the decamping of former Obama administration officials to places like Uber and Amazon," David Dayen writes at Salon. "That's because practically no law firm has done more to protect Wall Street executives from the consequences of their criminal activities than Covington & Burling."
Covington lawyers "drafted the legal justification for MERS, the private electronic database that facilitated mortgage-backed securities trading," Dayen reports, and the firm's marketing materials promote its "aptitude in getting bank clients off the hook." (The marketing material he links to is a reprint of a positive story in American Lawyer magazine.)
Holder tells the Washington Post that he hopes to counsel corporations on how to stay on the correct side of the law—"stepping in," as the Post phrased it, "before Covington's clients do the wrong thing." 
Dayen sees this as "a money hustle, using the knowledge gleaned from inside government to … help corporations beat the rap." (Covington didn't reply to our request for comment.)
It doesn't help Holder that, in 2013, he said the very bigness of big financial firms made his Justice Department hesitant to bring criminal charges against them, for fear of harming the larger economy. He tried atoning for that a year later with a video in which he said, "There is no such thing as 'too big to jail.'"
Even if Holder moving from top cop to corporate counsel is a striking example of the ol' Washington revolving door, it's still just that—one example. The brainpower that moves from government (not just the Justice Department) to private industry (not just Covington) in any given year could drive an entire economy. You might argue it does just that.
Other former attorneys general in private legal practice include Benjamin Civiletti, a senior partner at Venable, and Dick Thornburgh, who is of counsel at K&L Gates. John Ashcroft is a consultant—or, as his website puts it, an adviser to "those who, with integrity, will help steer our industries and markets toward a just and prosperous future."
Holder earned about $200,000 a year as attorney general. If those leaving the post are supposed to go straight into retirement, the pay probably needs to go up a bit.
Before it's here, it's on the Bloomberg Terminal.
LEARN MORE