John Kasich Returns to Washington
Two weeks away from announcing whether he'll run for the White House, Ohio's governor tries to win some friends in important places.
by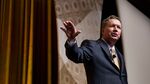 Nearing of his anticipated official entrance into the race for the 2016 Republican presidential nomination, Ohio Governor John Kasich on Tuesday visited Capitol Hill to schmooze with his party's members of Congress and other VIPs.
For Kasich, it was familiar stomping ground. He served 18 years in Congress, retiring in 2001 after an earlier, unsuccessful bid for the Republican presidential nomination. On Tuesday evening Kasich met with a group of lawmakers at the Capitol Hill Club, a Republican watering hole a short walk from the Capitol. Earlier in the day, he met individually with other members of Congress, including House Republican Conference Chair Cathy McMorris Rodgers of Washington. He also met with several dozen chiefs of staff for members of Congress.
His outreach to fellow officeholders whose political and financial networks he might like to tap was yet another sign that Kasich is edging towards the White House starting gate.
He plans to announce whether he's running on July 21. He told the Associated Press he's not worrying about whether he'll make the cut for the main stage at the first Republican presidential debate. Fox News, the sponsor, says it will limit participants to 10, based on candidates' numbers in national polls. By the time Kasich enters the race, the Republican field of contenders is likely to be up to 14, raising the  possibility that the Ohio governor, one of the lesser-known candidates, nationally, could be cut out of a debate that is taking place in his home state.
Senator Lindsey Graham on Tuesday launched a petition drive to protest debate criteria. Kasich took a more philosophical view. "Let's not put carts before horses," he told the AP.
Before it's here, it's on the Bloomberg Terminal.
LEARN MORE