Jimmy Carter Says U.S. Influence Waning in Middle East, Globally
Justin Sink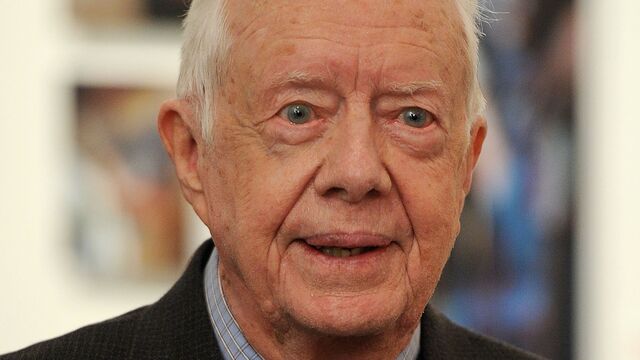 The U.S. is in an "inevitable relative decline in worldwide influence" due to the rise of China, India, and other developing economies, former President Jimmy Carter said Tuesday.
"As they increase in economic and cultural influence, it will replace a lot of the power and preeminence the U.S. has enjoyed in the past," Carter, 90, said during an interview with MSNBC. China will likely take over for the U.S. as the world's most influential economy, he said.
While Carter sees the U.S. remaining the dominant military power for "a long time," he said the nation's ability to shape foreign affairs is on the wane. The 39th president said the lack of ongoing peace talks between Israel and the Palestinians was one example.
"I don't see any prospect in the immediate future for any progress to be made" in peace talks, Carter said in the interview tied to the release of his book, "A Full Life." In 1978, Carter helped negotiate the Camp David Accords between Egyptian President Anwar Sadat and Israeli Prime Minister Menachem Begin, which brought relative peace to the region for 30 years.
Carter said that current Israeli Prime Minister Benjamin Netanyahu government's rejection of the prospect of a two-state solution complicated the work of negotiators, but that the U.S. was also "making no effort at all to orchestrate" a resumption of negotiations.
Before the Israeli elections in March, Netanyahu said he wouldn't allow the establishment of a Palestinian state while in office. The Israeli leader has subsequently said he wasn't opposing a Palestinian state in principle, and voiced support for a two-state solution, although the comments have strained his relationship with White House officials.
Relations between Israelis and Palestinians are "at an all-time low in my lifetime as far as any prospects for peace and progress," Carter said.
Before it's here, it's on the Bloomberg Terminal.
LEARN MORE