Welcome to the Bush-Clinton Speakers Bureau
The two presidential candidates have been sought after by many of the same companies and groups.
by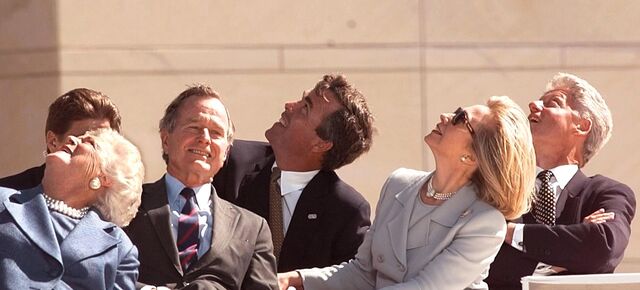 Republican Jeb Bush and Democrat Hillary Clinton, two of the top establishment choices for next year's presidential election, have more in common than famous families, a desire to succeed a relative in the White House, and politically awkward positions on the Iraq War.
Both, it turns out, have been subjected to many of the same chicken dinners served on the global paid speaking circuit. 
A review of speaking fees disclosed by Bush and Clinton as they embark upon their quests for the presidency shows that the rivals kept a remarkably similar speaking itinerary. At least 10 times, Bush, a leading contender for the Republican nomination, and Clinton, the front-runner for the Democrats, spoke to the same groups. At least once they appeared at the same event.
Bush also spoke to at least 11 groups that paid to hear from Clinton's husband, former President Bill Clinton. And at least 10 times, one or another of the Clintons spoke to a group that also paid for a speech from former President George W. Bush, Jeb Bush's older brother.
The candidates' parallel speaking tours highlight the similar orbits they move in as successful members of high-performing families, and the apparent political agnosticism of the companies and trade groups hiring them. Last year, when knee surgery forced George W. Bush to cancel a speech to Ameriprise Financial Inc., who did the Minneapolis-based company find as a replacement? Hillary Clinton.
They are both campaigning on closing the opportunity gap between high-income Americans and everyone else. But their speaking fees and the corporate clients who paid them identify them as firmly entrenched members of the former. Each has earned more for a single speech than half of all Americans will earn in a given year.
Among the groups that have paid both Jeb Bush and Hillary Clinton to speak: the University of Miami, in Bush's backyard; Cisco, the world's largest maker of networking equipment; and four trade groups that have lobbied the federal government, including the Biotechnology Industry Organization.
Groups paying to hear both Jeb Bush and Bill Clinton include Apollo Global Management LLC, the private equity firm that owns Twinkie-making Hostess Brands; Altria Group Inc., the parent company of Philip Morris, the world's biggest cigarette producer; and ThisDay, a Nigerian newspaper whose editor-in-chief, Nduka Obaigbena, hobnobs with Beyonce and Ice-T.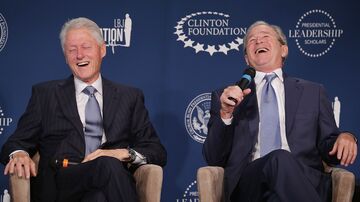 For both the Clintons and Bushes, the speechifying business has become a family affair. Chelsea Clinton, the daughter of Bill and Hillary, has raised at least $370,000 for the family's charity with speeches, according to Clinton Foundation records. Jeb Bush's younger sister, Dorothy; his sister-in-law, former first lady Laura Bush; and nieces Barbara Pierce Bush and Jenna Hager are all available for paid speaking engagements, according to the Washington Speakers Bureau.
Bush's father, former President George H.W. Bush, supplemented his post-presidency income with paid speeches, as did his brother.
The high fees that corporate clients are willing to pay members of the two political dynasties may fuel criticisms of presidential rivals who say it's time to move on from having another Bush or Clinton in the White House. Before President Barack Obama was elected in 2008, a member of one family or the other had occupied 1600 Pennsylvania Avenue for 20 years.
"The last thing we need is another Bush," Republican presidential candidate Donald Trump, who ranked second among GOP candidates in a recent national poll, said on CNN recently. "The Bush family should rest and relax and go back to, you know, sitting on boards and picking up checks."
Other Republican presidential contenders, including U.S. Senator Marco Rubio and Wisconsin Governor Scott Walker, who is expected to join the race soon, have described themselves as "fresh faces" for voters, an implicit dig at Bush and Clinton. Democratic presidential candidate Martin O'Malley has been even more overt. "The presidency is not a crown to be passed back and forth by you between two royal families," the former Maryland governor has said.
Comparing the businesses and groups that have paid to hear from both Bush and Clinton is possible after Bush's campaign last week made available a list of his more than 270 paid speeches since being termed out of the Florida governor's office in 2007. The document supplemented his release of 33 years of tax returns. It showed Bush earned about $10 million from speaking gigs, but didn't specify how much each group paid. 
While federal law doesn't require Bush to release his list of paid speeches, the Republican candidate said he "thought it was best" to be transparent about his finances. "It's important," Bush told reporters last week in Washington. "Americans deserve to know how I've made my money."
Bush said his earning potential in the speaking business, which accounted for about 30 percent of the $29 million he reported to the IRS from 2007 to 2013, "surprised me at first." Though he joked that he was paid less than three different Clintons for some speeches, Bush said he was proud of being a strong draw after leaving office. His best year was in 2014, when he collected $2.14 million.
"Not many people can sustain it over the length that I did," Bush said. "Totally grateful and appreciative of the chance to be able to do that. I learned a lot in that. I talked to a lot of people that have added a lot of value in my life."
His list of paid speeches, like similar disclosures Clinton has made detailing her speaking schedule from the previous two years, includes some of America's biggest companies. One those those included Tenet Healthcare, which paid Bush $35,000 to speak at a management strategy conference in 2011, according to U.S. Securities and Exchange Commission records. That fee was in addition to the roughly $241,000 he was earning each year in cash and stock options as a board member for the company, the largest provider of outpatient surgical services in the U.S.
Bush also spoke to many of the same corporations that helped finance the Clinton Foundation, the family's $285 million charity, including General Motors Co. and Newsmax Media. Poongsan Corp., which has given the Clinton Foundation more than $1 million, paid to hear Bush speak on 10 separate occasions, far more than any other group on Bush's list. The South Korean maker of coins and ammunition has donated to George H.W. Bush's presidential library and also brought in George W. Bush to speak at an event at Jeju Island, a popular vacation spot for Koreans also known as "Island of the Gods."
Like the Clintons, Bush was a regular on college campuses, snagging $50,000 for a speech at University of North Carolina in 2014 and $35,000 (plus two first-class airfares) in 2010 to debate 2004 Democratic presidential candidate Howard Dean at the University of Northern Kentucky, according to public records from those schools.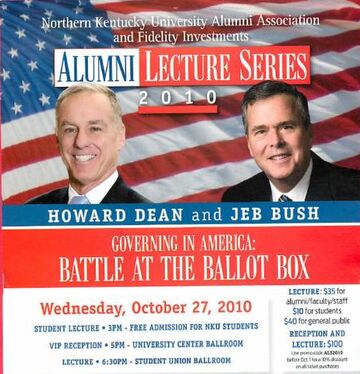 The faceoff with Dean, in the final days before the 2010 election, was mostly tame, according to a Cincinnati Enquirer report. Bush called for the Republican Party to be humbled by the sweeping victories that were imminent, adding that personal attacks in politics sickened him. "It ain't fun to watch your dad or your brother be attacked unmercifully, and I will never do that to President Obama," Bush said. "But I will stand up for what I believe is right as it relates to the future of our country."
Bush also gave a speech in 2011 to the University of Texas at Arlington for $40,000, 75 percent of which was covered by Best & Associates, a Dallas-based private equity and venture capital firm run by Randy Best. Best and Bush were investors in Academic Partnerships, a company that puts university courses online and recruits students for a percentage of the tuition. In addition to the UT speech, Best & Associates accounted for three of Bush's paid talks, including a 2014 Academic Partnerships convention in which Hillary Clinton was also featured.
Clinton thanked Bush at the start of her speech, noting his focus on education as a governor and how his "passion and dedication" to the issue continued after leaving office, according to an Associated Press report.
Bush and Clinton also crossed paths in Dallas in 2013 at the dedication of George W. Bush's presidential library in 2013. Later that year in Philadelphia, Bush, in his role as chairman of the National Constitution Center, awarded Clinton the Liberty Medal, which is given to those striving to "secure the blessings of liberty to people around the globe."
The medal's first two recipients when the Constitution Center began administering it in 2006: George H.W. Bush and Bill Clinton.
"Hillary and I come from different political parties, and we disagree about a few things," Bush said that day in Philadelphia. "But we do agree on the wisdom of the American people—especially those in Iowa and New Hampshire and South Carolina."
Clinton applauded Bush's joke, and laughed from her seat.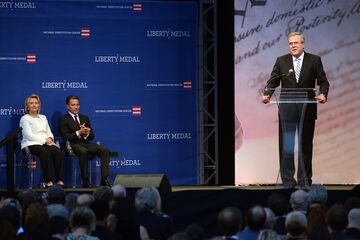 Sydney McNeal contributed to this report.
Before it's here, it's on the Bloomberg Terminal.
LEARN MORE