Trump's Super-PAC in a (Post Office) Box
Is it the real Donald Trump super-PAC? No one's saying.
by
Donald Trump, the presidential candidate who boasts velvety golf courses and glittery skyscrapers, now appears to have a super-PAC—in a post office box.
Make America Great Again PAC, which takes its name from the real estate mogul's presidential campaign slogan, filed paperwork last week with the Federal Election Commission. Trump's campaign manager, Corey Lewandowski, said the campaign has limited information about the super-PAC. Has Trump been trumped out of his own brand? Or is this an effort to provide some financial aid to the billionaire who has boasted that he will underwrite his own campaign for the Republican presidential nomination? His campaign manager couldn't say. 
"Given Mr. Trump's top-tier status in recent polls, it is not surprising that someone has put together a super-PAC to support Donald J. Trump for president," Lewandowski said. "We hope that they invite us to attend some of their events."
For now, at least, the super-PAC has a decidedly un-Trump-like quarters.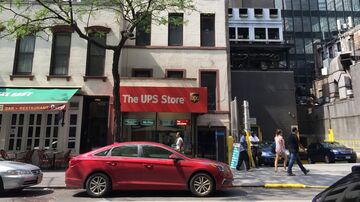 On its FEC filing as well as on the official website, Make America Great Again lists its address as 201 E. 51st St., Suite 157. It's a four-story building with a UPS Store at street level. A second door had four buzzers for the rest of the building, making it unlikely that the number 157 refers to anything other than a box at the UPS Store.
Earlier on Monday, the group's website included a Wells Fargo routing and bank account number to make donations to. It also said checks could be mailed to that same address, and was set up to accept credit card donations. By the early afternoon, the only portion of the site dealing with donations said to contact the PAC at its phone number or at an e-mail address to donate. 
An message from the super-PAC's email address in response to questions from Bloomberg said:
"Make America Great Again will be active in the presidential race and we like the issues that Mr. Trump is focusing on. They are issues that we will seek to educate voters on so they can make the best decision at the ballot box."
The uncertainty about Trump's relationship with the super-PAC is unusual. While election law prohibits candidate "coordination" with super-PACS, which can raise and spend amounts far greater than candidate committees, candidates can give clear signals to supporters about where they should deposit their money, and most of this year's major contenders already have. Right to Rise, Jeb Bush's designated super-PAC, is headed by a trusted former aide, as it Priorities USA, the group helping Hillary Clinton. But Make America Great Again's connection to Trump isn't clear. Absent a clear indication from the candidate, the possibility exists that Trump has become the victim of a new form of political identity theft. The super-PAC era has given rise to "Scam PACs," groups that raise money off of a candidate's name or slogan, but exist mainly to draw a salary for their leaders, delivering little or nothing to the candidates they suggest they're raising money for. 
The group's FEC filing lists the treasurer is named Leslie Caldwell, but Caldwell could not be reached at the number listed on the form.
Jonathan Anderson, a lawyer for the Denver firm Holland & Hart, mailed in the filing to the FEC. Via email, Anderson confirmed that he is the PAC's lawyer. Anderson said Caldwell was not immediately available to talk about the group's fundraising goals or strategies, but provided a written statement about the group. 
"Make America Great Again has a principle-based purpose." Anderson wrote. "America is trapped in a dangerous spiral of overregulation that is stifling the American spirit and causing our country to fall further behind every day. Today America requires proven and successful leaders who will return our country to excellence. Make America Great Again is supporting leaders who will answer that charge, including Donald Trump." 
Before it's here, it's on the Bloomberg Terminal.
LEARN MORE