Obama Urged to Convene Crisis Group Over Puerto Rico's Debt
Kasia Klimasinska and Kathleen Hunter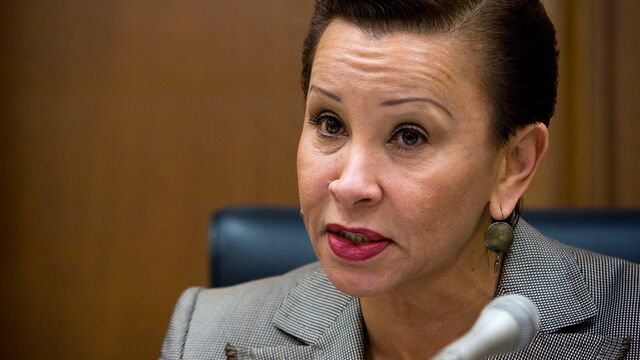 The first woman of Puerto Rican descent elected to the U.S. House of Representatives called on President Barack Obama Monday to do more to help the debt-wracked island.
The Obama administration has signaled it has no intention of intervening and said any help for Puerto Rico needs to come from Congress, where top Republicans have shown little inclination to get behind bankruptcy legislation.
Representative Nydia M. Velazquez, a New York Democrat, urged Obama to call an emergency meeting of the President's Working Group on Financial Markets, a panel formed in response to the October 1987 stock-market crash. Velazquez, a member of the House Financial Services Committee, said investors are at risk of losses as the commonwealth struggles with $72 billion of debt.
In a letter to Obama, she said the working group "presents the best option to produce an organized and fair outcome for those involved."
The Obama administration has said it has no interest in bailing out the commonwealth. White House press secretary Josh Earnest Monday repeated that Congress should consider legislation that would allow Puerto Rico's government agencies to file for Chapter 9 bankruptcy protection.
'Generally Supportive'
"What we're generally supportive of is Congress considering legislation along these lines," Earnest said. "We haven't seen specific legislation, so we're not ready to commit to it at this point."
Earnest said, "We certainly believe that this is something that Congress should take a look at."
Democratic Senators Charles Schumer of New York and Richard Blumenthal from Connecticut last week announced plans to sponsor a bill that would allow Puerto Rico's government to file for bankruptcy protection.
Similar legislation in the U.S. House, sponsored by Puerto Rico's non-voting member of Congress, Pedro Pierluisi, hasn't moved since a February hearing. Republican leaders, who control both chambers, didn't get behind the bill.
House Speaker John Boehner and Senate Majority Leader Mitch McConnell, both Republicans, have been silent on the Democratic proposals.
Won't 'Solve'
"Bankruptcy alone isn't going to solve all of the financial problems Puerto Rico has gotten itself into," said Beth Levine, a spokeswoman for Senate Judiciary Chairman Charles Grassley, an Iowa Republican. "It's going to be important for Puerto Rico to have a plan to address all of its underlying financial problems."
The President's Working Group on Financial Markets is led by the Treasury secretary and includes the chairmen of the Federal Reserve, the Securities and Exchange Commission and the Commodity Futures Trading Commission, according to a 2014 report.
The group was active during the 2008 financial crisis. Led by then-Treasury Secretary Henry Paulson, it issued a report proposing greater scrutiny of lending and stronger management of capital and financial risks.
Before it's here, it's on the Bloomberg Terminal.
LEARN MORE