Look Who's Cutting Checks to Republicans Who Fight Climate Change
A donor has given a little bit of money to a lot of Republicans and a lot of money to support one person—Senator Kelly Ayotte of New Hampshire—to draw the whole party's attention to her approach.
by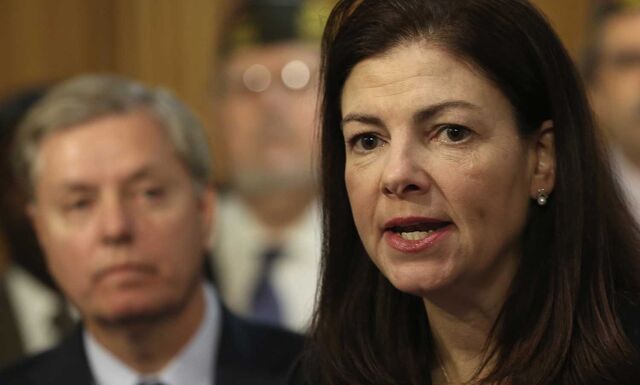 A prominent Charlotte entrepreneur has contributed $800,000 so far this year to Republican candidates who say a more competitive energy industry would make consumers happier, the U.S. more secure, and the climate less polluted.
Jay Faison owned a custom audio-video installer before founding SnapAV, a manufacturing and distribution giant. He sold it in 2013, and used $165 million of his wealth to seed a nonprofit organization, the Clear Path Foundation. The group offers business-minded Republicans scientific, policy, and economic research about climate change. He is starting a political advocacy group with an additional $10 million.
Faison has given to Republican Senate candidates in the past, including, in 2008, current Senate Majority Leader Mitch McConnell of Kentucky, and several moderates.
His recent campaign contributions together reveal an overall strategy. According to Esther Koo, a publicist for Faison and Clearpath.org, Faison's personal contributions include:
$50,000 to the pro-Jeb Bush super-PAC Right to Rise
$100,000 to Security Is Strength, a super-PAC supporting South Carolina Senator Lindsey Graham, who for several years has been a lonely voice on the right supporting climate scientists and national policy
$500,000 to Granite State Solutions, a super-PAC supporting Senator Kelly Ayotte of New Hampshire, who is seeking her second term in 2016
Other recipients include Representatives Carlos Curbelo of Florida and Bob Dold of Illinois. Faison is building a huge tent and wants all the Republicans to come in and talk. That's why he has spread contributions even to groups that support traditional opponents of climate policy, including the National Republican Congressional Committee, the National Republican Senatorial Committee, and Senate Leadership Fund, a super-PAC allied with McConnell, who has spent the last few years fighting what he calls President Barack Obama's "war on coal."
In short, Faison has given a little bit of money to a lot of Republicans and a lot of money to support one person—Ayotte—to draw the whole party's attention to her approach.
"Primarily, we are looking forward, rather than backward," Faison said by e-mail. "Our role is to warm the water on the issue, so that other Republicans will be comfortable supporting good energy policy."
The League of Conservation Voters, an environmental advocacy group that issues report cards to politicians based on their voting records, gives Ayotte a 23 percent rating. Democrats consistently score quite high and Republicans quite low in LCV analyses. Among Republicans, however, even 23 percent makes her a trend-setter. The four sitting senators running for the White House are Graham, Marco Rubio of Florida, Ted Cruz of Texas, and Rand Paul of Kentucky. They average 10 percent, which is the same score with which presidential candidate Rick Santorum of Pennsylvania finished his Senate career in 2006.
Ayotte may not impress the LCV with her overall environmental record, but her understanding of the causes of and solutions to climate change has certainly caught Faison's attention. If nothing else, she sees the problem, which puts her far ahead of most Republicans. In March she voted in favor of an amendment, sponsored by Democratic presidential candidate Bernie Sanders, an independent senator from Vermont, that acknowledges the findings of climate science and says that Congress should cut national emissions. Among the four GOP senators running for president, only Graham supported the measure. Cruz didn't vote. The measure failed 49-50.
Ayotte rose to the Senate after taking on several environmental issues as attorney general of New Hampshire. Her record goes back to at least 2005, when she and 12 other state attorneys general opposed clean-air legislation that didn't address greenhouse gas emissions. Since joining the Senate in 2011, she's voted several times with Democrats on climate-related measures. A bill she introduced that encourages commercial tenants to increase the energy efficiency of rented properties was included in energy legislation that became law in April. 
Faison described his criteria for making "very meaningful" contributions in this way: "We are looking for strong Republican leaders who are forward-thinking, recognize the risk of climate change, and who believe America can accelerate its inevitable transition to clean energy without harming the economy."
Ayotte's victorious 2010 campaign raised more than $4.41 million, with the contributions coming heavily from the financial, legal, and insurance sectors; she has received much less money from the traditional energy sector. More than half of New Hampshire's electricity comes from a nuclear power plant. The oil and gas sector ranked seventh in Ayotte's contributions between 2009 and 2012, according to the nonpartisan Center for Responsive Politics.
Republican leadership for many years has refused to act on, or often even acknowledge, the well-established findings of climate science. Faison is betting that an injection of honesty and realism into conservative discourse can bring market-friendly policy ideas to the fore, and turn this contentious issue into a leadership opportunity and win for the right.
Before it's here, it's on the Bloomberg Terminal.
LEARN MORE