Happy Birthday, America! Now, Vote for Me
Candidates' holiday greetings come with a little self-promotion.
by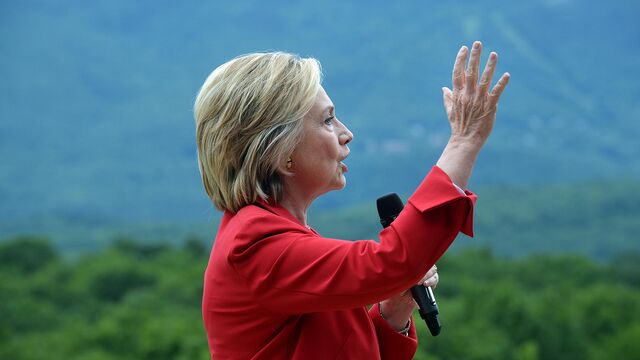 Just like the mattress-sellers, furniture warehouses, and appliance vendors who use every national holiday as an excuse to sell their wares, another enterprising group of Americans took advantage of this July Fourth to try to sell another product: themselves.
On Twitter, on Facebook, on Instagram, and via e-mail—not to mention along parade routes—most members of this year's unprecedentedly large field of presidential hopefuls took advantage of America's birthday to tout their patriotism, along with their campaigns. Some were subtle about it. Some less so. You be the judge.
The Democrats
Hillary Clinton
The Democratic front-runner offered an inspirational quote—from herself. Clinton's message referred to a line from a video she made when she was secretary of state for "Tomorrow Will Be Better," a national campaign to prevent LGBT young people from committing suicide.
Lincoln Chafee
The former Rhode Island governor celebrated when "brave patriots brought us independence and freedom" with a tweet, then later showed off his mini-class reunion.
Martin O'Malley
The former Maryland governor eschewed patriotic deep thoughts for a series of tweets from various Fourth of July events he attended in New Hampshire, including what may qualify as the day's noisiest campaign post:
Bernie Sanders
Compared to some of his flag-waving presidential peers, Vermont's socialist senator took a distinctly less chauvinistic tone. In one tweet, Sanders reminded Americans to thank the members of the armed services. In another he noted that, by one key metric at least, the USA is not No. 1: 
The Republicans
Jeb Bush
Like Sanders, the former Florida governor offered two July 4 morning tweets, one of which thanked the troops (with a well-placed Jeb! logo in the pic).
He also posted a video—complete with donation link—and a picture of himself signing a fan's cast.
Ben Carson
The retired pediatric neurosurgeon posted a photo on Facebook of two little boys in front of veterans' graves at a cemetery in Florida with a reminder "that our Freedom has never been free," then posted a photo of two other kids sporting a "Run Ben Run" sign.
Chris Christie
In a tweet, the New Jersey governor thanked his New Hampshire host for the weekend, Mitt Romney, and bunkmate Marco Rubio.
Christie also told a crowd of Republicans in Wolfeboro, New Hampshire, that his favorite founding father is John Adams, drawing smirks and giggles when he said it was largely due to Adams' reputation for surliness and being brash.
Ted Cruz
The Texas firebrand went all out for the holiday. First, the senator released a statement that cited "all the simultaneous events that seem to indicate an impending American decline" but emphasized that isn't the country he sees. He then re-told the story of the signing of the Declaration, and then his own family story.
"The Fourth of July always reminds me of the opportunity America gave my family, and I ask myself, 'What have I done today to ensure that same opportunity exists for future generations?'" the statement says.
Next was the posting of an image of the Declaration of Independence on Twitter. 
Finally there was the compilation video of him interacting with voters—at one point, even signing a Constitution—all set to dramatic music and ending with the message that "the grassroots wave has begun."
Carly Fiorina
The former Hewlett-Packard CEO used digital technology but otherwise went old school with a Facebook post that was the modern-day equivalent of the patriotic speeches politicians always used to be obligated to give on the nation's birthday.
Lindsey Graham
For the South Carolina senator, who recently retired as a colonel from the Air Force Reserves, where he served for 20 years, it was all about the troops.
Mike Huckabee
The former Arkansas governor and Fox News host retweeted the offering of a politically powerful evangelical group.
Bobby Jindal
The Louisiana governor showed off the parade he attended in Iowa.
John Kasich
The Ohio governor, who is expected to announce a run soon, sent America a birthday card on Twitter.
Rand Paul
The Kentucky senator, who speaks frequently and philosophically about his libertarian beliefs, released a short animated video message, complete with images of the founders, warnings about today's government, and a shout-out to Ronald Reagan.
On this day in 1776, our nation was born out of an idea—an idea that all people are created equal and that the individual is truly superior to the government. Now, 239 years later, our nation is again at a historical apex, where we must choose whether we will pursue the cause of liberty or continue on the path to an out-of-control government that attempts to control every aspect of our lives. Amidst the fireworks and barbecue, please take a moment to remember the words of President Reagan—that freedom is never more than one generation away from extinction. From my family to yours, have a happy Independence Day.
George Pataki
The former New York governor celebrated Independence Day by continuing his crusade to get his party to declare its independence from real estate mogul-turned-reality TV star-turned-presidential candidate Donald Trump.
Pataki also touted the campaign, and hailed the nation's birthday, in July Fourth-eve messages in English and en español.
Rick Perry
The former Texas governor did it all—created an Instagram image of himself riding a hog, offered remembrances for the troops, and produced a cell phone video of supporters marching.
Marco Rubio
The Florida senator's holiday tweet sent readers to a webpage where his Fourth of July message came complete with a fundraising plea.
Rick Santorum
The former Pennsylvania senator did a logo-graced card and a wish for blessings.
Donald Trump
After telling Fox News that the presidential campaign is hurting his business, the outspoken real estate mogul took to Facebook to offer a short July Fourth greeting—featuring his campaign slogan.
Scott Walker
The Wisconsin governor, who is expected to soon declare a run, really cut to the heart of the matter. "Happy Independence Day!" he wrote on Twitter, and then linked to an image of a waving American flag.
Later on, he added a self-signed tweet with a campaign line: "In America we celebrate July 4th not April 15 because in America we celebrate our independence from the gov't, not our dependence on it."
Terrence Dopp contributed reporting from New Hampshire.
Before it's here, it's on the Bloomberg Terminal.
LEARN MORE