Why Donald Trump's Corporate Allies Are Finally Abandoning Him
He's made statements regarded as offensive before—but in a presidential campaign, they're taken more seriously.
by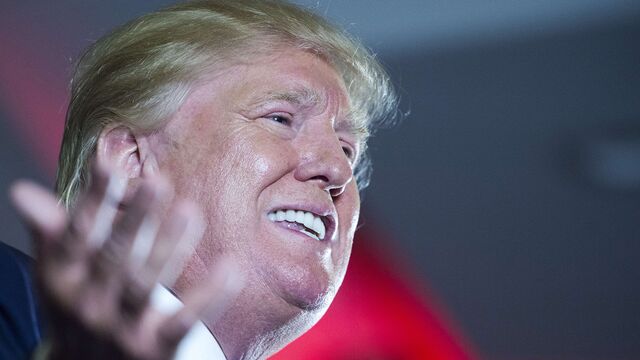 On June 16, Donald Trump stood on the ground floor of the Manhattan trophy tower bearing his name, which dares to cast a shadow over the Apple Store. Light beamed down upon him, as teenage girls from Iowa—who'd been shopping at Tiffany's before they were asked to come rally next door—smiled for cameras and shrieked. In his announcement speech, Trump extemporized, leading to some statements that defied both grammar and logic. He said that the United States had become a "dumping ground." He said, "When Mexico sends its people, they're not sending their best. They're not sending you. They're sending people that have lots of problems, and they're bringing those problems with us. They're bringing drugs. They're bringing crime. They're rapists. And some, I assume, are good people." 
In the days since his address—weeks, actually—NBC, Univision Communications Inc., and Macy's Inc. have severed ties with Trump. "NBC is weak," was Trump's response to the news. Also, "clearly, NBC and Macy's support illegal immigration, which is totally detrimental to the fabric of our once-great country."
In a facetious postscript to a letter he sent to the CEO and President of Univision, he wrote, "Please congratulate your Mexican Government officials for having made such outstanding trade deals with the United States."
And late in the day Wednesday, New York City Mayor Bill de Blasio said that that the city is reviewing its business contracts with Trump In a statement released while on a family vacation in New Mexico, the mayor called Trump's remarks about  "our Mexican brothers and sisters" hateful, offensive, and disgusting. One can be confident of a Trumpian response before long.
The attention the real-estate mogul has been getting is nearly unending, as his campaign often brags.
Not that Trump has never before made statements derided as offensive—it's just that in a presidential campaign, they're taken far more seriously. In 1991, the former president of Trump Plaza Hotel & Casino noted that Trump remarked, "laziness is a trait in blacks," and also told him, "Black guys counting my money! I hate it. The only kind of people I want counting my money are short guys that wear yarmulkes every day." The same year, Trump told Esquire, "You know, it doesn't really matter what [the media] write as long as you've got a young and beautiful piece of ass." 
He refers to African-Americans as "the blacks," he slams accomplished women in journalism and entertainment for their appearance, he says that "All of the women on The Apprentice flirted with me—consciously or unconsciously. That's to be expected." 
And many more. None of this is to mention  speaking publicly of his daughter Ivanka's figure. Or claims like:
Much of the nation loves Trump, or at least delights in his claims and his millennial-era brand of all-American celebrity. A CNN/ORC poll released Wednesday showed Trump in second place (12 percent of likely Republican voters) only to former Florida Governor Jeb Bush (19 percent). 
Even as some companies cut ties with Trump, there's an acknowledgement of his stature as a political figure whose statements must be taken at face value.
"Macy's is a company that stands for diversity and inclusion," the department store said. "We are disappointed and distressed by recent remarks about immigrants from Mexico," Macy's added, decrying Trump's depiction of Mexicans, Mexican Americans and Latinos, "who have made so many valuable contributions to the success of our nation."
Before it's here, it's on the Bloomberg Terminal.
LEARN MORE