Scott Walker to Announce Presidential Campaign Intentions July 13
He is also expected on Thursday to file his papers of candidacy with the Federal Election Commission, an aide says.
by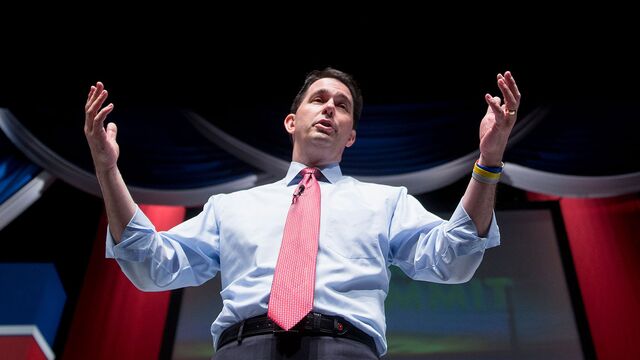 Wisconsin Governor Scott Walker will announce his presidential campaign intentions on the afternoon of July 13 in suburban Milwaukee, a Walker aide who wasn't authorized to speak on the record said.
The two-term governor will make his announcement in Waukesha, just west of his home in Wauwatosa, Wisconsin. The date of the announcement was reported earlier Thursday by Politico.
Walker, 47, also on Thursday filed a letter with the Federal Election Commission reporting that he has "received contributions of more than $5,000 within the last 15 days," though noting that he has "not yet announced whether I will be a candidate for president."  
"Should I formally announce, I will seek the Republican nomination for the office of president of the United States in the 2016 election," Walker wrote in his letter to the FEC.
The governor was on the tarmac to greet the man he may be angling to succeed, Barack Obama, when Air Force One arrived Thursday in Wisconsin, where the president is delivering a speech on the economy.
If he formally enters the race as expected, he would be the 15th Republican to do so. The most recent public polling in Iowa shows him atop the field in the state that will host the first nomination voting in February, although his standing has slipped this year as others have officially joined the contest.
Walker had pledged not to enter the presidential race until the Wisconsin legislature completes its two-year budget bill. Lawmakers in Madison will meet next week to try to hammer out the final details, but it remains unclear whether they'll finish their work before July 13.
Before it's here, it's on the Bloomberg Terminal.
LEARN MORE