Jim Webb Announces Presidential Campaign
The decorated Vietnam veteran and former Democratic U.S. senator from Virginia joins the ranks of long-shot challengers to front-runner Hillary Clinton.
by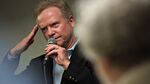 Jim Webb, a decorated Vietnam veteran and former Democratic U.S. senator from Virginia, said Thursday he is running for president, joining the ranks of long-shot challengers to front-runner Hillary Clinton.
"After many months of thought, deliberation and discussion, I have decided to seek the office of the Presidency of the United States," Webb said in a lengthy statement on his website. He touted his military experience and said he knew that "more than one candidate in this process intends to raise at least a billion dollars—some estimates run as high as two billion dollars—in direct and indirect financial support," presumably referring to well-funded rivals, including Clinton. "But our country needs a fresh approach to solving the problems that confront us and too often unnecessarily divide us."
Webb, 69, hardly registers in public-opinion polls, receiving support from just 4 percent of Democratic voters nationally in a Wall Street Journal/NBC News poll in June.
The former Marine, who upset Republican Senator George Allen in 2006 and likes to say he's "the only person ever elected to statewide office in Virginia with a union card, two Purple Hearts, and three tattoos," has embraced strong labor organizations, a position that often resonates with moderate Democrats, including the working-class white men the party has been trying to recapture. As a presidential candidate, he is expected to attempt to exploit the concerns some Democrats have about Clinton's ties to Wall Street.
"Our political leaders should have courage and the vision to say 'enough is enough,' to stand up to the financial sector that has been growing ever more powerful in the impact of both political parties," Webb told the International Association of Fire Fighters union in March. "We have the hardest-working and most productive workforce in the world, but we need to remove obstacles facing working families."
Webb also brings a knack for charting his own course. He started his political career as a Republican and served as an assistant secretary of defense and secretary of the Navy under President Ronald Reagan. He supports gun rights and abortion rights, and has expressed deep suspicion about U.S. intervention in the Middle East.
In an April speech at the University of Chicago, he also said that the U.S. lost its direction in foreign policy in "about 1993," when Clinton's husband, Bill, entered the White House. Webb did not mention either Clinton by name in that speech and has generally refrained from attacking her, including in an interview with the Des Moines Register editorial board in the early-voting state of Iowa on June 16. He has outlined a seven-point foreign policy agenda that included maintaining strategic superiority, strengthening support for allies, and abandoning the concept of "humanitarian intervention," according to his campaign issues site.
"I would not be the President to sign an executive order establishing a long-tem relationship with Iran if it accepts Iran's acquisition of nuclear weapons," he wrote in his announcement e-mail. "On the other hand, I would make it clear to our friends and our potential adversaries that we will retain vigorous relationships with our treaty partners and our allies, and that we will meet and defeat any international terrorist movement that threatens our national security."
He recently raised eyebrows for his comment on Confederate flag displays, which many politicians moved to condemn after nine African-American worshippers were were shot dead in a church in Charleston, South Carolina. "The Confederate Battle Flag has wrongly been used for racist and other purposes in recent decades," Webb wrote on Facebook. "It should not be used in any way as a political symbol that divides us. But we should also remember that honorable Americans fought on both sides in the Civil War, including slave holders in the Union Army from states such as Missouri, Kentucky, Maryland and Delaware, and that many non-slave holders fought for the South."
In the Senate, Webb advocated for issues that he said "don't really ring up the cash registers of the big campaign donors," such as reducing incarceration rates and increasing access to adult education. His Born Fighting political action committee took in less than $160,000 in 2014, according to the Center for Responsive Politics, which tracks campaign donations. 
He has acknowledged his discomfort with fundraising, according to Politico, saying in April he's "very bad" at it and labeling the Clinton campaign's financial strength as "the great intimidator." 
Webb grew up in Missouri and attended the Naval Academy, graduating in 1968. He served as a company commander in Vietnam and received the Navy Cross, Silver Star, and two Bronze Stars in addition to his two Purple Hearts.  
A graduate of Georgetown University Law Center, he worked as counsel to the House Committee on Veterans Affairs for four years beginning in 1977. In 1984, Reagan appointed him as the first assistant secretary of defense for reserve affairs. He became secretary of the Navy in 1987, resigning a year later after a dispute with Defense Secretary Frank Carlucci over cutbacks in the Navy fleet.
Webb had once endorsed Allen, but by 2006, Webb had become a Democrat decided to challenge the him over President George W. Bush's handling of the Iraq War, which Webb had been warning could result in a decades-long commitment since before the invasion. During the campaign, Webb wore the combat boots of his son, who had served in Iraq as a Marine. His candidacy benefited from the release of a video in which Allen used an apparent racial slur to describe a Webb campaign worker. Webb quickly rose in the polls and narrowly defeated the incumbent, helping the Democrats regain control of both chambers of Congress.
Webb arrived in D.C. with what the Washington Post called "a brash, unpolished style." He declined to have his picture taken with Bush at a White House reception for freshman members of Congress soon after the election. When the president asked Webb how his son was doing, Webb responded that he would "like to get them out of Iraq" and then, when asked again, said "coldly" that his son's welfare was no business of Bush's, according to the Post's account. 
In the Senate, Webb wrote the Post 9/11 GI Bill and supported increasing in the minimum wage. He landed spots on the Foreign Relations, Armed Services, and Veterans Affairs committees, and he offered the Democratic response to Bush's 2007 State of the Union. After serving one term, he left the Senate in 2013.
The author of nine books, Webb won an Emmy award for journalistic coverage of a 1983 bombing of a Marine barracks in Lebanon. Webb has six children and lives in Virginia with his wife, Hong Le.
Bloomberg Government contributed to this report.
Before it's here, it's on the Bloomberg Terminal.
LEARN MORE