Chris Christie Takes a Not-So-Subtle Jab at Donald Trump on Immigration
The New Jersey governor is staking his presidential campaign on New Hampshire, the comeback kid state.
by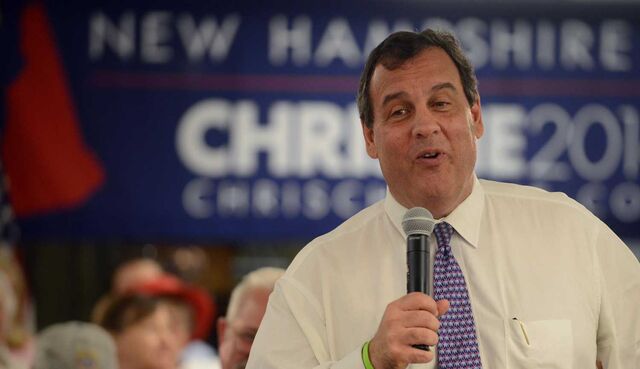 Chris Christie has a message for Republicans in the immigration debate: don't trust anyone trying to sell you a fence.
The 52-year-old New Jersey governor, who's waging an uphill race for the Republican party's presidential nomination, on Thursday reiterated his opposition to building a fence that spans the southern border with Mexico. That position puts him at odds with a number of his rivals, most notably Donald Trump, the outspoken billionaire who has been making headlines (and losing contracts) with his incendiary remarks about America's southern neighbor. Among other things, Trump has vowed to build a wall between the two nations and to make Mexico pay for it. 
"Please be careful about anybody who's running for president who is going to tell you that they're going to build a wall across the entire southern border. It's not going to happen; it's the wrong message to send and it's not going to be effective," Christie told 50 people who attended a town hall meeting at the Pink Cadillac Diner in Rochester, New Hampshire. "Always beware of of the candidate for public office who has the quick and easy answer to a complicated problem." 
Afterwards, Samantha Smith, Christie's campaign spokeswoman, said the governor was outlining long-held positions and not reacting to Trump's statements.
In Nashua later, Christie told reporters Trump has every right to be in the race and will be taken "as seriously as he conducts himself." The governor in the past has called Trump a friend. But his assessment of Trump's remarks about Mexico was less-than flattering. "The comments were inappropriate and have no place in this race," Christie said.
Christie, on his second full day of campaigning after making his bid for the presidency official, put the undocumented worker dilemma in terms Republican budget hawks could appreciate: "Think about it what that's going to cost," he said. He also argued that it would be ineffective. "I know the human spirit," he added. "I've never seen a wall that was big enough or tall enough to stop a person who was determined to get over, under or around it from getting over, under or around it."
While Christie no longer supports giving people in the United States illegally a pathway to citizenship, he dismisses the idea that they can all be sent home (not enough law enforcement in all the land to deport an estimated 11 million people, he said). To combat illegal immigration, he wants to expand e-verify employment checks. For border protection he favors drones and electronic surveillance.
"Let's not kid ourselves that this is the easy answer," he said of suggestions to build a wall between the U.S. and Mexico. "There may be certain spots where it makes sense to build a wall or build a fence. But not the whole thing."   
The governor, who said he'll have more to say about his immigration policy later this month, is in the middle of the pack in a crowded Republican field and on the bubble for making the 10-person Republican presidential debate that FOX is planning to sponsor next month. Focusing on the Granite State and its first-in-the-nation primary, with its history of favoring underdog candidates, Christie has said he plans to crisscross New Hampshire and the country, appearing at small events and town halls as he attempts to win over voters.
Christie became the 14th Republican in the race when he declared Tuesday that he's officially in. Wisconsin Governor Scott Walker and Ohio Governor John Kasich are expected to announce their own campaigns later this month.
In an area less controversial with his party colleagues, Christie took the opportunity to blast the Dodd-Frank Act. He said the sweeping financial regulatory law has strangled lending and damped the housing market. If elected, Christie said he would exempt state and locally chartered banks from the law's requirements.
During his visit to Nashua, Christie picked up the endorsement of former Mayor Bernie Streeter. The mayor has endorsed a candidate in every New Hampshire Republican primary election since Richard Nixon and said he hasn't picked a loser yet.
Before it's here, it's on the Bloomberg Terminal.
LEARN MORE