The Best Tidbits From 3,000 Pages of Hillary Clinton E-mails
You can learn a lot about a person's beverage and private jet preferences from her e-mail.
by and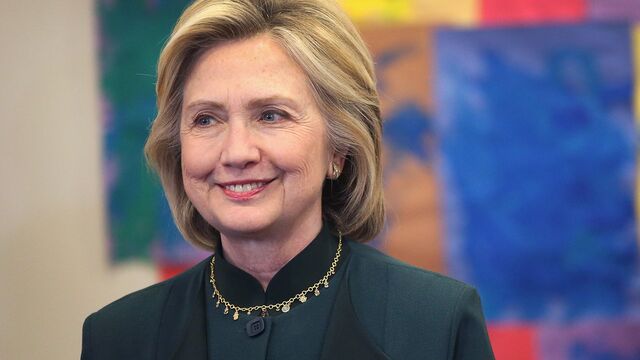 The State Department on Tuesday released 3,000 pages of Hillary Clinton's e-mails from when she was secretary of state. The overall arc of the e-mails tells the story of an image-conscious Clinton and staff working hard to manage her public profile. But the quotidian interactions reveal, on the micro level, the ins and outs of being a cabinet member and being Hillary Clinton. 
Here are some of the highlights from the cache of messages.
Hillary Clinton used two e-mail addresses on her personal domain
In March, the New York Times revealed that Clinton had exclusively used personal e-mail as the nation's top diplomat. Clinton confirmed it at a news conference, saying she chose to use one device for her personal and work e-mail because it was more convenient. The released messages show that she actually used two different personal addresses at the domain "clintonemail." Here's an e-mail sent from the address hrod17@clintonemail.com: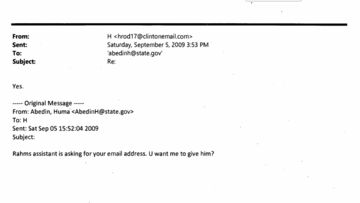 And here's one from HDR22@clintonemail.com: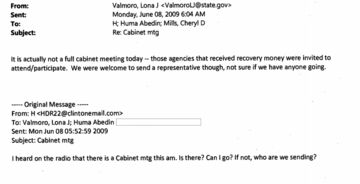 The White House leaves some things to the last minute
Behind on your barbecue planning for this weekend? Don't worry. As this e-mail shows, the White House in 2009 invited cabinet members to its fireworks viewing party around noon on July 3. 
Senator Barbara Mikulski isn't the greatest typist
After Clinton injured herself in a fall, Senator Barbara Mikulski, a Maryland Democrat, sent her good wishes. The message was a bit garbled.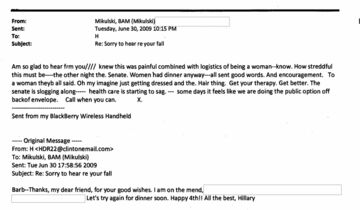 What it's like when you're famous and a former colleague dies
This e-mail, sent right after Senator Ted Kennedy died in August 2009, provides a glimpse at what it means to deal with the death of a friend when you're Hillary Clinton.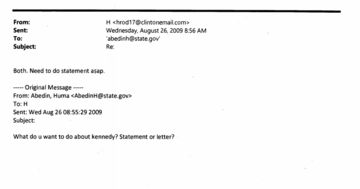 What it's like to be the Ross Gellar of the cabinet 
Clinton found out there was a cabinet meeting on the radio, though it turned out not to be a full meeting. 

The laws of space and time may not apply to Hillary Clinton 
Here's a head-scratcher. Clinton e-mailed a State Department staffer to ask about ordering dinner. The reply, from communications aide Philippe Reines, asked whether Clinton wasn't supposed to be making a speech just then. News reports from the time show that Clinton was speaking in South Africa that day. The rest of the exchange is redacted.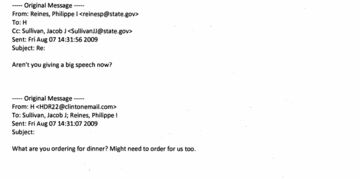 Hillary Clinton likes positive feedback 
Clinton asked top aide Huma Abedin to print out this laudatory e-mail from Reines.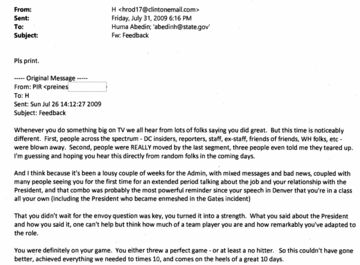 Hillary Clinton likes iced tea
And one of her staffers is in charge of asking another staffer to get it for her. 

Fax machines are hard
Here's an exchange between Clinton and Abedin, in which the two try to iron out some technical issues.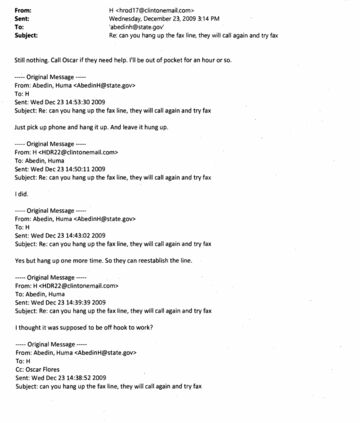 Selecting a private jet is also hard
Hard choices, indeed. A subject line like "Plane delay" means something a little different when you're Hillary Clinton.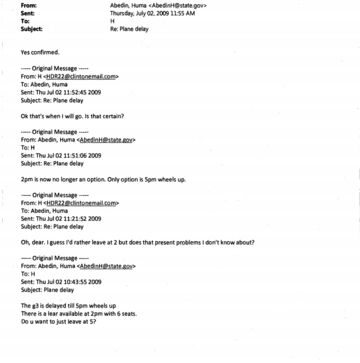 And so is Twitter
In June 2009, the Clinton State Department rethought its "Twittering" policies after Clinton's account, apparently not manned by her, was called out for being too dull.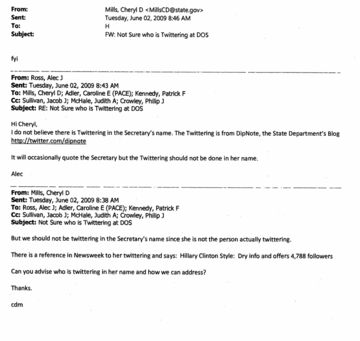 Before it's here, it's on the Bloomberg Terminal.
LEARN MORE