Obama Urges Congress to Take Next Step, Lift Cuba Embargo
Margaret Talev and Indira A.R. Lakshmanan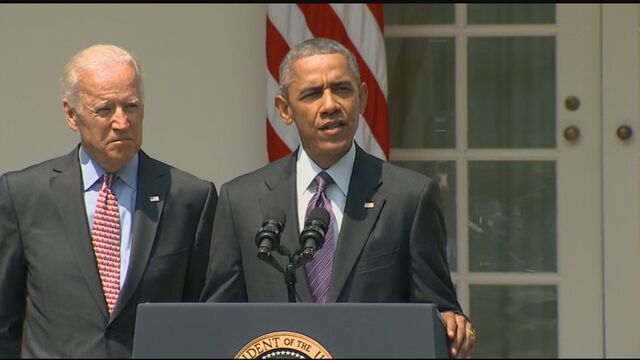 President Barack Obama urged Congress to follow his decision to reopen the American embassy in Havana by lifting the U.S. trade embargo on Cuba.
"We don't have to be imprisoned by the past," Obama said on Wednesday at the White House. "Americans and Cubans alike are looking to move forward. I believe it's time for Congress to do the same."
The embassy will reopen on July 20, when Cuba also will reopen its embassy in Washington. Secretary of State John Kerry intends to go to Havana to "proudly raise the American flag over our embassy once more," Obama said.
Jeffrey DeLaurentis, who heads the U.S. Interests Section in Havana and would be the initial envoy heading the reopened embassy, delivered a letter from Obama confirming the plans addressed to Cuba President Raul Castro, according to Cuba's Foreign Ministry.
The question for Obama is whether he has the political momentum coming off a series of high-profile victories to accomplish the next steps in what he said would be a long process of normalization: getting the embargo lifted and a U.S. ambassador to Cuba confirmed by the Republican-controlled Senate. Obama hasn't decided whether to nominate an ambassador in the immediate future or keep it operating under DeLaurentis as charge d'affaires, according to an administration official.
Obama Critics
Critics of Obama's opening to Cuba quickly denounced his latest move.
House Speaker John Boehner, an Ohio Republican, said in a statement that the administration "is handing the Castros a lifetime dream of legitimacy without getting a thing for the Cuban people being oppressed by this brutal communist dictatorship."
Democratic Senator Bob Menendez of New Jersey, a staunch opponent of reestablishing relations with Cuba, accused Obama of trying to burnish his legacy at the expense of the Cuban people.
"Our demands for freedoms and liberty on the island will continue to be ignored and we are incentivizing a police state to uphold a policy of brutality," he said in a statement. "The message is democracy and human rights take a back seat to a legacy initiative."
Cuba also may become an issue in the 2016 presidential contest.
Florida Senator Marco Rubio, who is seeking the Republican presidential nomination, has said he would block any ambassador nominee offered by the White House. Ted Cruz, a Texas senator also seeking the party's nomination, has echoed that threat.
Fewer Restrictions
U.S. diplomats in Cuba will have fewer restrictions on their movements than they do now, according to an American official who didn't disclose how much leeway to travel outside of Havana was obtained in negotiations. The revised restrictions also will apply to Cuban diplomats in the U.S.
Future talks will deal with U.S. claims over property expropriated by the Cuban government and the return of U.S. fugitives in Cuba, according to the official, who briefed reporters on condition of anonymity. The official said Kerry's ceremonial visit may not come until sometime after the embassy is opened.
Cuba's Reaction
Cuban authorities had their own list of unsettled business. Further normalization will be a "long and complex process," according to a statement on the website of the state-run newspaper Granma, with one significant impediment.
"'There cannot be normal relations between Cuba and the United States as long as the rigorously applied economic, commercial and financial blockade continues,'' the statement said.
To his domestic critics, Obama said it's ''long past time'' to realize that trying to isolating Cuba hasn't worked and that the best way to advance U.S. interests is through engagement. He said there are tourists who want to travel to Cuba and businesses that want to invest there.
Source of Friction
That theme was picked up by supporters of renewing ties to Cuba. Democratic Senator Chris Murphy of Connecticut said U.S. policy has failed to bring a change in Cuba's government and instead has been a source of friction with other countries in Latin America.
Public sentiment may be moving Obama's way. A Pew Research poll released in January, one month after the president first announced plans to reestablish diplomatic times, found that 63 percent of Americans favored re-establishing diplomatic relations, while 28 percent disapproved. Two-thirds of respondents favored ending the trade embargo.
The thaw between the U.S. and Cuba has triggered an explosion of interest in the island nation from businesses and governments worldwide. They're betting that the prospect of a tourist boom will unleash the $68 billion Cuban economy through development.
Deere & Co., Marriott International Inc. and Corning Inc. are among companies that accelerated lobbying related to Cuba in the first three months after Obama announced economic and diplomatic openings in December, according to Bloomberg Intelligence.
Tourist Visits
Cuba's government anticipates that 10 million Americans eventually will visit annually as travel restrictions are liberalized, up from about 1 million this year. The country now receives about 3 million foreign visitors a year, mostly from Canada and Western Europe, according to the government's data.
U.S. state governors are jockeying to get trade delegations to Cuba to promote agricultural products and business deals. After New York Governor Andrew Cuomo led a mission to Cuba, officials said they made four deals, including one with JetBlue Airways Corp., which will offer direct flights between New York and Havana starting this week.
France, the U.K. and Japan are among the countries also seeking to bolster trade. China recently signed a deal with Cuba's Ministry of Tourism to build a golf course on the island.
U.S. President Dwight D. Eisenhower cut diplomatic ties with Cuba in 1961 after President Fidel Castro's decision to nationalize foreign assets, including U.S. property, on the Caribbean island. The next year a U.S. trade embargo was extended to include almost all imports.
Before it's here, it's on the Bloomberg Terminal.
LEARN MORE