Lindsey Graham Suggests Trey Gowdy for the Supreme Court
The senator and Republican presidential candidate praised his fellow South Carolinian Republican's "real world experience."
by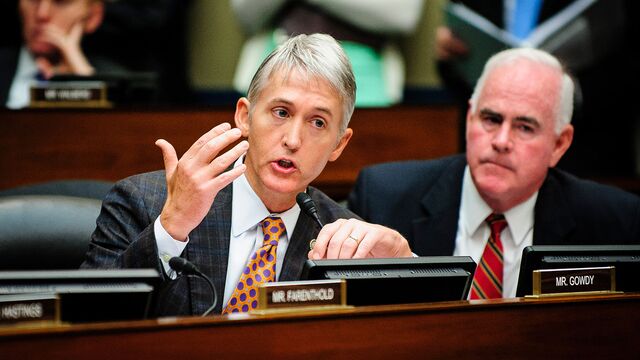 South Carolina Senator Lindsey Graham is lagging far towards the back of the pack in this year's crowded field for the Republican presidential nomination, but he's already got his first Supreme Court nominee picked out: fellow Palmetto State lawmaker Trey Gowdy.
In a meeting Wednesday with the Des Moines Register's editorial board, Graham said, he'd like to make his first justice a qualified lawyer "with real world experience" rather than a career jurist. He suggested "a guy like [Representative] Trey Gowdy." 
A three-term member of the House of Representatives, Gowdy, 50, is best known as one of Democratic presidential frontrunner Hillary Clinton's chief antagonists on Capitol Hill. As chair of the House subcommittee on the 2012 Benghazi terror attack, the South Carolina Republican sought to interview Clinton, who was secretary of state at the time of the incident that led to the deaths of four Americans, including U.S. Ambassador J. Christopher Stevens.
Gowdy also has had some success in securing and releasing emails sent from Clinton's private account when she was secretary of state. Recently, his committee interviewed Sidney Blumenthal, a Clinton confidant and one of the former secretary of state's most prolific e-correspondents.
The investigation seems to have rankled the Clinton campaign, which on Wednesday released a video through its rapid response arm. The 81-second spot, called "Charade," accuses Gowdy of spending $8,000 a day to pursue a "partisan charade" against Clinton.
But Graham seems to like the air around his colleague.
"Somebody who's been in the real world—been a politician, been a prosecutor," Graham said Wednesday, referring to the fellow Republican's six years as a federal prosecutor. "There are a lot of people, talented in nature, who have never worn the robe, that would be good Supreme Court justices."
That description could also fit Graham, a longtime military lawyer (he recently retired from the Air Force Reserves), who served as one of the prosecutors for the unsuccessful impeachment of former President Bill Clinton.
Despite that, Graham had a friendly relationship with former first lady Hillary Clinton when they served together in the Senate, even cosponsoring legislation with her. Now that they are both running for president, he's taking a more critical view. Graham told the Register board that if Clinton wins the presidency, she'd appoint Supreme Court justices who would "disappoint you almost all of the time."
During the wide-ranging talk in which Graham urged foreign intervention in the Mideast, budgetary restraint at home, and "practical" conservatism overall, Graham made another political predictions, saying he believed his Senate colleague and fellow Republican candidate Marco Rubio of Florida "is going to be president some day" even if 2016 is "too soon."
A spokeswoman for Gowdy did not immediately respond to requests for comments on Graham's suggestion.
Before it's here, it's on the Bloomberg Terminal.
LEARN MORE