John McCain Dropped a Foul Ball. He's Got a Good Excuse, Internet.
The Internet is doing a particularly terrible job of realizing why the senator had a tough time catching a foul ball last night.
by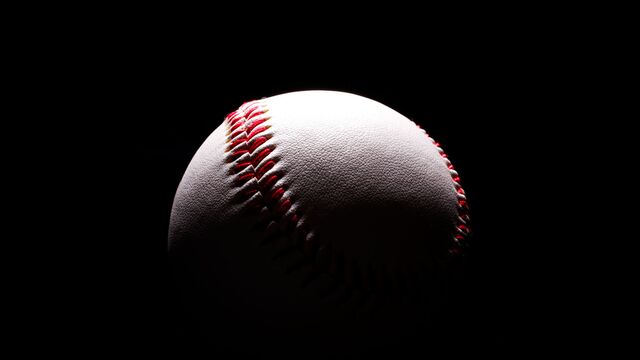 Arizona Senator John McCain spent a couple of hours of his congressional recess Tuesday night at the Arizona Diamondbacks game. Totally normal.
A foul ball even came his way—one he couldn't quite hang onto.
Cue the Internet mockery. 
Now, McCain is pretty famous, and not just in the Washington sense. He was, after all, the Republican nominee for president in 2008. That generally puts your face and biography in front of a lot of the nation.
But apparently 2008 was a really long time ago, or perhaps parts of that bio didn't quite stick. Like, you know, the fact his plane was shot down over North Vietnam in 1967 and he was taken prisoner. Or the fact that he was captured with fractures in both arms, neither of which received much care from his captors. Or, the fact that because of those injuries and the lack of care he received during his five-plus years of captivity, he can't raise his arms above a certain point. All of these facts would seem to be important to include when you choose to mock the Arizona senator for his inability to catch a foul ball...right? 
Nope. Nope. Nope. Nope. Nope. Nope.
Not so much, Sports Illustrated.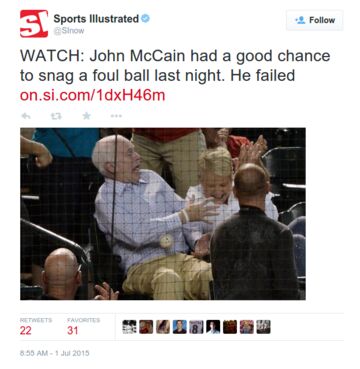 (Sports Illustrated deleted the above tweet after its replies blew up with people who were familiar with McCain's past.)
Even the hometown team gave him some grief...
...which he took in stride...
... and then turned into an opportunity to whip All-Star votes for the team's star first baseman, Paul Goldschmidt. 
For anyone looking for some added context that might be valuable next time around, McCain's first-person account of his time in captivity, first published in U.S. News & World Report in 1973, might be a good place to start. 
Before it's here, it's on the Bloomberg Terminal.
LEARN MORE