Hillary Clinton Raises Record $45 Million in First Quarter of Campaign
The haul is a result of star-studded fundraisers and also grassroots enthusiasm: 91 percent of the donations were of $100 or less, the campaign said.
by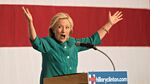 Hillary Clinton's presidential campaign raised at least $45 million during its first quarter, her campaign announced Wednesday, preempting all other White House hopefuls with a haul that her aides see as a sign of significant strength.
Clinton's haul from her campaign's launch in mid-April through June 30 is a record for primary money raised in a candidate's first quarter. President Barack Obama held the previous record, raising $41.9 million after launching his re-election bid.
The $45 million goes a long way toward the campaign's public goal of raising $100 million by the end of 2015, which aides say will put her on strong footing to make it through months of primaries and caucuses. The number could also rise slightly since campaign is still tabulating last-minute contributions. Presidential candidates have until July 15 to file financial disclosure forms with the Federal Election Commission; the release will mark the first time the public will see how much the campaigns are raising and who is giving to them.
Other campaigns and the super PACs supporting them have not yet announced end-of-quarter fundraising totals, but there have been claims made for months that the pro-Jeb Bush super PAC Right to Rise will have taken in $100 million in unlimited contributions during the first half of 2015. Priorities USA Action, the pro-Clinton super PAC, was expected to raise a small fraction of that amount this year.
While the quarter's haul is "great news," Clinton campaign manager Robby Mook said in a Wednesday e-mail to supporters, "we can't get complacent" since "some of the Republicans are rumored to have raised $100 million into their war chests, every penny of which they'll use to tear down our campaign and strengthen theirs. So we need to keep working."
The other candidates vying for the Democratic nomination, meanwhile, will likely have fundraising totals that are dwarfed by Clinton's. Senator Bernie Sanders said he had attracted 200,000 donors as of mid-June and his campaign had raised $8.3 million online through June 17, according to FEC filings by ActBlue, the fundraising platform that he and some other left-leaning candidates and causes use. Another candidate for the Democratic nomination, former Maryland Governor Martin O'Malley, who launched his bid in late May, raised $331,000 on ActBlue through mid-June.
Clinton, the front-runner for the Democratic nomination, appeared at dozens of high-dollar fundraisers—many in New York, several in California, plus a smattering smaller cities like St. Louis, Austin and Albuquerque—where attendees were often asked to give the primary-season maximum $2,700, or to raise at least $27,000.
Hosts for Clinton's fundraisers have included Power Rangers creator and Univision owner Haim Saban, hedge fund manager Marc Lasry, and billionaire climate activist Tom Steyer. Beyonce was spotted at a Manhattan fundraiser hosted by record executive L.A. Reid, as were TV personality Sharon Osborne and "All About That Bass" singer Meghan Trainor.  
Clinton finished off the the quarter with close to two dozen fundraisers in the past two weeks, closing it out with a 1,000-person event at New York concert venue Terminal 5 that drew celebrities including Olivia Wilde, Jason Sudeikis, Zach Braff, and Uzo Aduba. Tickets for that fundraiser started at $45 per person.
The campaign, though, is emphasizing a number that it sees a sign of grassroots enthusiasm: 91 percent of the donations were of $100 or less, Team Clinton announced on Twitter. In a handwritten note posted on the social media site just after the campaign announced the top-line numbers, Clinton expressed her appreciation. "Thank you so much for being part of this campaign. I'm grateful for all you've done and excited for what comes next," she wrote. "When the road ahead is tough, you need the best people by your side. That's why I'm thankful for you."
Clinton's team hasn't yet said how many donors it was able to attract, but fundraising e-mails sent in the past few days hinted at the magnitude. The campaign said it had a goal of taking in 50,000 grassroots donations in the final stretch of the quarter and was, according to a Monday note from chair John Podesta, "just spitting distance away from that number." The campaign's total number of donations was larger but aides didn't yet have a number to disclosed.
The campaign has not yet said how much it's spent, and those numbers, which will be included in the FEC filings, will offer a sense of whether the fundraising is actually covering all its costs. Clinton's 2008 campaign had debts totaling $25 million at the end of its final month – more than $13 million of it owed directly to the candidate herself. Debts to others were finally paid off at the end of 2012, though Clinton had to go without getting repaid for what she'd lent.  
This time around, her team is actively working to be more fiscally responsible. Mook encourages ways to keep costs low where possible, requiring staffers traveling between New York and Washington to take buses unless it's particularly time sensitive, spending little money on office decor and setting up a decades-old donated refrigerator in the kitchen of campaign headquarters in Brooklyn.
Still, the campaign has substantial costs, including the salaries of hundreds of workers already on the payroll, travel expenses including the intermittent use of a private plane by the candidate, and all the expenses associated with setting up sophisticated field operations, particularly in the early primary states.
Before it's here, it's on the Bloomberg Terminal.
LEARN MORE