Ted Cruz, Ken Paxton Court New Fight on Gay Marriage Over Texas Licenses
Erik Larson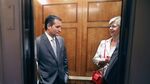 Texas officials are encouraging county clerks to refuse marriage licenses to same-sex couples on religious grounds, a move some lawyers say is driven by either politics or wishful thinking.
Following the U.S. Supreme Court's decision to legalize gay weddings, Texas Attorney General Ken Paxton and U.S. Senator Ted Cruz are arguing that county officials are protected by the state's religious freedom law, which mandates government accommodation of deeply held spiritual beliefs.
While more than a dozen states have such laws, using them to deny marriage licenses would clearly violate the U.S. Constitution's "establishment clause" against government promotion of religion, said Burt Neuborne, a professor of civil liberties at the New York University School of Law.
"It's brilliant political thinking" even if their argument "won't last five minutes in court," Neuborne said. "They see an opportunity to turn themselves into culture heroes" so it "doesn't even matter if they win."
Cruz, a Republican presidential hopeful, said on MSNBC's "Morning Joe" television show Tuesday that he agreed with Justice Antonin Scalia's dissent from the Supreme Court's June 26 ruling, which he called a "fundamental threat to our democracy."
On his website, Cruz said county clerks have a right to challenge the ruling on religious grounds under state and federal employment laws. Many clerks in the state are issuing licenses to same-sex couples.
A message left at his office wasn't immediately returned.
Paxton agreed that court clerks with strong spiritual views can use the religious freedom law to avoid any involvement in gay weddings.
Religious Objections
"County clerks and their employees retain religious freedoms that may provide for certain accommodations of their religious objections to issuing same-sex marriage licenses," he said in a June 28 opinion on the Supreme Court's ruling.
The conflict in Texas is being played out in other states. North Carolina passed a new religious-freedom law earlier this month. In Alabama, a number of counties still haven't begun issuing marriage licenses to same-sex couples.
Angi Stalnaker, a spokeswoman for Alabama's Pike County, said the jurisdiction stopped issuing marriage licenses to anyone in February to comply with the local probate judge's personal beliefs and the opinions of residents who elected him.
The policy allowed the judge to "hold true to his values" while still following the law, she said.
No Justification
A lawyer for the American Civil Liberties Union rejected such arguments.
"There is no legal justification for government officials to refuse to do their job," said Rose Saxe, an attorney with the ACLU, which helped represent gay couples in the Supreme Court case. Religious freedom challenges are dangerous because they could set a precedent "that same-sex couples deserve different treatment."
Saxe said the obvious comparison is with interracial marriages, which were also challenged on religious grounds after they were legalized nationwide by the Supreme Court in 1967. Clerks wouldn't be allowed to use religious-freedom laws to refuse service to interracial couples, she said.
"It is unconscionable, not to mention now illegal, that any government official could continue to deny universal access and recognition to gay and lesbian couples and their families," Jerrold Nadler, a New York congressman and member of the House Judiciary Committee, said Tuesday in a statement.
'A Theocracy'
Neuborne said the Texas approach would unfairly shift the burden of a government worker's religious beliefs onto gay couples, which is at the heart of the establishment clause.
"You can't have a legal system in which someone takes an oath to enforce the laws openly and fairly and then add on at the end that it doesn't apply if it violates their religious beliefs," Neuborne said. "Then you have a theocracy."
Brian Brown, president of the National Organization for Marriage, which opposes same-sex unions, said he would welcome a new legal fight on the issue.
If a judge accepted a challenge on religious-freedom grounds, the right of religious court clerks to refuse licenses to gay couples could eventually be established nationwide, Brown said.
"Same-sex marriages are not marriages -- all we have is the government saying so," Brown said.
Before it's here, it's on the Bloomberg Terminal.
LEARN MORE