Chris Christie Says Expect Brutal Honesty From Him on Campaign Trail
Terrence Dopp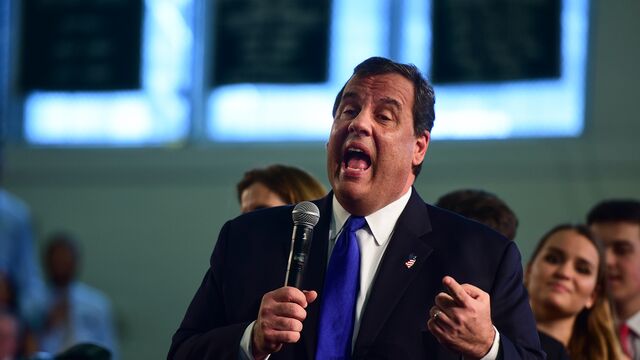 Hitting the road in New Hampshire to try to stoke the coals of his presidential ambition, New Jersey Governor Chris Christie stepped in front of a 200-person crowd as something he's never been before: candidate for president.
The five-day swing through New Hampshire got under way just hours after Christie became the 14th Republican to join the race for his party's nomination. His promise to the crowd was to run a brutally honest campaign in which he positioned himself as a straight-talking politician who operates outside of Washington rulebooks.
"I have no interest in being a pretend president of the United States who puts on some act for you," Christie said toward the end of the meeting in Sandown. "The only way I'd want to be president is if I get to be me -- and you get to be you. That's the way this country will recover, and that's the way this country will lead once again."
During the packed, 90-minute town-hall meeting in a municipal building, Christie hit on topics ranging from Hillary Clinton, saying he'd beat her; to national security, boasting that he's the only Republican to prosecute a terrorism case.
The second-term governor is betting that the Granite State -- and its tradition of town-hall meetings -- will hold the key to jump-starting an electoral effort that hasn't ignited the same kind of popularity that four years ago prompted business and political leaders to ask him to enter the race. He declined in 2012.
Christie, who announced his campaign earlier Tuesday in the gym of the Livingston, New Jersey high school he graduated from, said during the meeting in the wood-paneled town hall of Sandown that he's the candidate who can best end what he called "indecision and hand-wringing" in the Oval Office.
Court Appointments
He said his resounding re-election in 2013 shows he is well-situated to beat Clinton, the Democratic front-runner. Responding to another questioner who referenced U.S. Supreme Court decisions this week upholding Obamacare and legalizing gay marriage, he cited Justice Samuel Alito as a model for his appointments to the court if he were elected.
It's the 10th time Christie has campaigned in New Hampshire. On previous trips he's been forced to say he was traveling as the "honorary chairman" of his political action committee, Leadership Matters for America.
In New Hampshire, the first-in-the-nation primary state key to his aspirations, a Suffolk University poll of Republicans released on June 23 put Christie behind former Florida Governor Jeb Bush, real estate mogul Donald Trump, Wisconsin Governor Scott Walker, U.S. Senator Marco Rubio and retired neurosurgeon Ben Carson.
Before it's here, it's on the Bloomberg Terminal.
LEARN MORE