Chris Christie Endorsed by Maine's LePage, Who Faces Impeachment Move
Terrence Dopp and Elise Young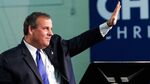 Chris Christie picked up his first endorsement as a U.S. presidential candidate, embracing fellow Republican Governor Paul LePage as Maine lawmakers explore impeachment proceedings against him.
LePage has drawn attention for his volatile temperament, crude references to sodomy and insults to Democratic President Barack Obama. He's being targeted for ouster by a half-dozen legislators amid allegations of a plot to have an opponent fired.
Christie, 52, traveled to New England on Tuesday after announcing his candidacy in his native New Jersey, where he has a record-low approval of 30 percent. He told 200 people that night at a town hall meeting in Sandown, New Hampshire, that he has "no interest in being a pretend president of the United States who puts on some act," a reference to his own penchant for bluntness.
The two governors met Wednesday at Becky's Diner in Portland, Maine. Some in the restaurant arrived 45 minutes early to greet Christie.
'Real Deal'
"He's the real deal," said LePage. "He knows what hard decisions are, and he's going to make them."
Christie said he was happy to receive the support "from somebody who knows what it's like to run a blue state and knows what it's like to make tough decisions, knows what it's like to engage in hand-to-hand combat."
As Christie entered the small restaurant on the Portland waterfront, the newly minted candidate found more than two dozen reporters and cameras awaiting him. As he made the rounds of tables near a live lobster tank, Christie leaned in to greet diners, some standing because all seats were taken.
The surprise jaunt to Maine came in the second day of a five-day swing through New Hampshire, a state he's hoping to capture to gain traction in the Republican nominating contest. Since announcing, the crowds attending his events in the Granite State have been larger and he's received more media attention.
He has ground to make up. A Suffolk University poll of New Hampshire Republicans released June 23 put Christie behind former Florida Governor Jeb Bush, real estate developer Donald Trump, Wisconsin Governor Scott Walker, U.S. Senator Marco Rubio and retired neurosurgeon Ben Carson.
Still, Christie twice was elected in a place where Democrats outnumber Republicans by more than 700,000. As chairman of the Republican Governors Association, he raised a record $106 million to put his party in control of executive offices in 31 states. Among the beneficiaries was LePage, for whom Christie campaigned personally.
The governors cemented a relationship after LePage's first win in 2010, and Christie said the governor was among the first he called over the weekend to say that he was running.
LePage reduced income taxes by the largest amount in state history, froze cost-of-living increases for three years and raised the retirement age for new state workers to revamp the pension plan. He enacted a program to repay about $500 million in debt to hospitals, which has been a drag on the state's credit rating.
America's 'Craziest'
His bombastic moments, though, led Politico to call him "America's craziest governor" in January, in a piece that recounted his telling NAACP leaders to "kiss my butt" and removing a mural depicting Maine's labor movement because a letter writer had said it was reminiscent of North Korean brainwashing. In 2013, the Portland Press Herald quoted unidentified Republican lawmakers as saying that LePage, speaking at a fundraiser, told donors that Obama "hates white people."
Democratic and independent lawmakers are researching whether LePage can be impeached after threatening to deny funding to a charter school so long as Democratic House Speaker Mark Eves was employed there, according to the Press Herald.
Christie's trip Wednesday drew criticism from LePage's foes.
"It's equally fitting that the only person in Governor LePage's corner is Chris Christie of Bridgegate fame, who faced federal inquiry for political revenge," Phil Bartlett, chairman of the Maine Democratic Party, said in a statement. "These two share more than a brash style of governing and a history of corruption, they have the same failed economic records to show for it."
Before it's here, it's on the Bloomberg Terminal.
LEARN MORE