Reliving Chris Christie's Glory Days at Livingston High
He's kicking off his presidential campaign at his alma mater.
by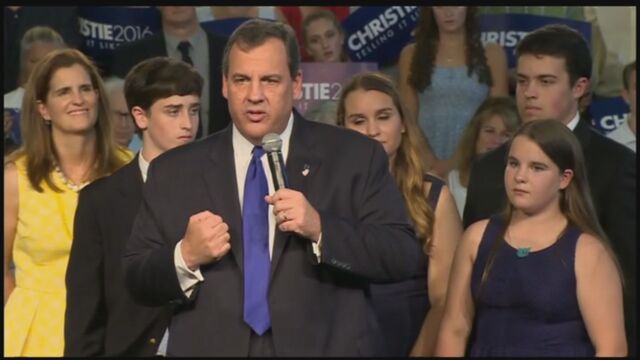 Chris Christie is formally launching his campaign for the Republican presidential nomination on Tuesday at his alma mater, Livingston High School in Livingston, New Jersey. 
The event in the school's gym is modeled after the New Jersey governor's famed town halls, where he is known to get into it with any New Jerseyan who comes with an ax to grind. It's also a part of the school system where Christie first got his start in politics. (The Bruce Springsteen song "Glory Days"—"Glory days well they'll pass you by"—played in the gym ahead of Christie's speech.)
Here are some memories from the Christie era. 
He was class president
He served for three years in high school, but he also learned from earlier defeats. The Associated Press reported that Christie lost one of his first elections in junior high, and the experience taught him a crucial lesson. 
"The first race I ever ran in, I did not vote for myself. I voted for the other person because I actually thought that you know it was conceited to vote for yourself. And I wound up losing the election by two votes," Christie said, according to the report. "So I learned always to vote for yourself, that's the first thing."
He was a prankster
Christie posted this picture to his Instagram of his senior class's prank. They painted "80" (their graduation year) on the school's roof. The Philadelphia Inquirer reported that he actually painted it twice, repainting it after he apologized to the principal and said it wouldn't happen again. 
He was a rabble rouser
When a local diner owner tried to prevent Christie and his friends from hanging out at the restaurant (without ordering much food), Christie organized a boycott of the diner, according to the New Yorker, ultimately restoring the teenagers of Livingston's right to chill.
It's where he met a mentor
When Christie was 14, Thomas Kean, then a state lawmaker who would go on to become governor, came to speak at school, the New Yorker reported. Christie was in junior high at the time. The speech left an impression on Christie. His mom drove him over to Kean's house, and Christie knocked on the door and asked for advice about a career in politics. Kean told Christie to tag along with him to an event and see what he thought of it. Christie would wind up becoming a mentee of Kean's, and eventually worked on his gubernatorial campaigns. The relationship eventually soured somewhat. Kean told the New Yorker that "he doesn't always try to persuade you with reason," adding that "he makes you feel that your life's going to be very unhappy if you don't do what he says." Kean said he wasn't sure he would endorse Christie for president. 
It's where he met David Wildstein
The former Port Authority executive earlier this year pleaded guilty to charges stemming from the 2013 George Washington Bridge lane closure scandal known as Bridgegate that continues to cast a shadow on Christie's ambitions. Christie claims to have had no knowledge of the plan, and has not been charged with any wrongdoing. Christie has said that he and Wildstein didn't know each other well in high school. During a 2014 news conference about the scandal, Christie said he and Wildstein moved in different social circles. "You know, I was the class president and athlete," Christie said. "I don't know what David was doing during that period of time."
Christie's team went so far as to point out what they framed as a punitive streak in Wildstein from those high school days, distributing information about how he brought a suit over a school board election when he was 16.
The thing is, the New Republic found that Christie and Wildstein might have had more interactions back in the day than the governor originally let on, though the jock/nerd dichotomy Christie drew holds up. They were on the baseball team, their coach Tony Hope said, and would have had a fair amount of interaction. Here's Hope talking to the magazine:
David Wildstein was our baseball statistician. He was a very quiet, unassuming, brilliant kid. He'd do the baseball stats like you wouldn't believe. He gave you the stats from the previous week's games, he had a brilliant mind for numbers and figures….And he was doing it without any of the computers you have today. He's doing it all with a calculator, none of the fancy technology…You know, averages against righthander and against lefthander, that sort of thing…He knew the game but he wasn't at all a player. I mean, not at all.
Before it's here, it's on the Bloomberg Terminal.
LEARN MORE