Public-Sector Union Fees Draw U.S. Supreme Court Review
Greg Stohr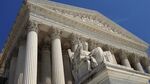 The U.S. Supreme Court will consider letting public-sector employees nationwide refuse to pay union fees, agreeing to take up a major labor-law case that could affect more than 5 million government workers.
The justices said they will consider overturning a 1977 ruling that said those employees can be compelled to pay for union representation for purposes such as pay bargaining as long as they don't have to cover the cost of political or ideological activities.
The court will hear arguments from 10 California teachers who say they have a free-speech right not to support union activities with which they disagree. The court will hear arguments and rule during the nine-month term that starts in October.
The decision to hear the new case "is an important step toward finally respecting the First Amendment rights of America's public servants," Mark Mix, president of the National Right to Work Legal Defense Foundation.
The Supreme Court a year ago cast doubt on the 1977 ruling, Abood v. Detroit Board of Education. Writing a 5-4 decision, Justice Samuel Alito called Abood "questionable," while stopping short of overturning it.
Twenty-four states already give workers the right to refuse to pay union fees. The other 26 have more than 5 million public-sector workers, according to the National Right to Work Legal Defense Foundation.
Wages, Job Conditions
Union leaders said the case threatens to undermine the ability of public-sector workers to push for higher wages and better job conditions.
"The Supreme Court has chosen to take a case that threatens the fundamental promise of America -- that if you work hard and play by the rules you should be able to provide for your family and live a decent life," said a joint statement by leaders of the National Education Association, the American Federation of Teachers and three other unions.
Under California law, public workers in what are known as "agency shop" jobs must either become dues-paying union members or pay a fee to support the union's collective-bargaining activities. Covered activities include lobbying that supports the union's negotiating positions.
For teachers, union dues often exceed $1,000 per employee, though people who don't want to pay for political activities can cut that amount by $350 to $400, according to the teachers suing California.
Public Policy
The suing teachers say that system forces them to pay for union speech on important public policy questions.
"It is difficult to imagine more politically charged issues than how much money cash-strapped local governments should devote to public employees, or what policies public schools should adopt to best educate children," the appeal argued. "Yet California compels petitioners to fund a very specific point of view on these pressing public questions."
The California Teachers Association and California Attorney General Kamala Harris urged the high court to reject the appeal. They argued that collective bargaining doesn't involve the type of political or public-policy issues that trigger First Amendment protections.
"One searches the petition in vain for anything the unions actually seek in collective bargaining to which the petitioners are opposed," the teachers' group argued.
Harris told the court that "mandatory agency fees ensure that all employees in a particular bargaining unit pay a fair share of the cost of the representation."
In a second line of argument, the appeal contends that, at a minimum, California can't require objecting workers to opt out every year to avoid paying for the union's political activities.
The case is Friedrichs v. California Teachers Association, 14-915.
Before it's here, it's on the Bloomberg Terminal.
LEARN MORE