Illinois Considers Stopgap Budget Amid Impending Shutdown
Tim Jones and Elizabeth Campbell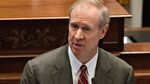 Illinois lawmakers won't pass a budget by the fiscal year's start and instead will authorize a one-month continuation of spending to avoid a shutdown, House Speaker Michael Madigan said.
With a new budget year beginning Wednesday, the Democratic-controlled legislature and Republican Governor Bruce Rauner remained far apart on how to close a deficit of at least $6.2 billion.
"Tomorrow, there will be no budget," Madigan told reporters Tuesday in Springfield, the state capital.
Madigan said Democrats would vote Wednesday on a one-month, $2.2 billion spending plan that would avert a shutdown of services such as Medicaid, child care and assistance to the developmentally disabled.
"An unbalanced, short-term budget with no real reforms is still a phony budget and unacceptable to the people of Illinois," said Rauner spokeswoman Catherine Kelly.
The budget impasse has been building since Rauner was elected in November as the first Republican to hold that office in 12 years. The former equity capital executive campaigned on a pledge to cut spending, revamp government and cut or hold the line on taxes.
Democrats have been equally resolute in their insistence that new tax revenue be part of the budget. The cash crisis worsened when lawmakers allowed a temporary income-tax increase approved in 2011 to expire Jan. 1.
The immediate effect of a shutdown is in dispute. While Rauner said he would ensure that employees are paid and that services continue, Democratic Attorney General Lisa Madigan said paychecks may not be issued.
Classroom Cuts
The crisis also extends to the state's largest school district. Lawmakers returned to Springfield facing a bill that would have granted Chicago Public Schools six more weeks to come up with a $634 million pension payment due Tuesday.
Instead, the school system, the nation's third-largest, made the full payment Tuesday afternoon, said Charles A. Burbridge, executive director of the Chicago Teachers' Pension fund.
Chicago Mayor Rahm Emanuel had said earlier Tuesday that making the pension payment would adversely impact the schools. The Chicago Board of Education had already projected a $1.1 billion deficit for the year that starts Wednesday.
Because lawmakers haven't addressed the schools' financial crisis, the district made the payment by borrowing and must now make $200 million in cuts, an official said in a statement. About 1,400 positions will be impacted starting Wednesday.
"CPS could not make the payment and keep cuts away from the classroom, so while school will start on time, our classrooms will be impacted," Jesse Ruiz, the district's interim chief executive officer, said in an e-mailed statement.
The board of education on June 24 authorized borrowing of as much as $1.1 billion through short-term notes and warrants to manage cash flow.
Broader Standoff
The broader standoff is causing disquiet in the municipal bond market.
"It causes pain in the meantime, and it just raises some concern from an investor's point of view," said Gary Pollack, who manages $6 billion of munis, including Illinois holdings, as head of fixed-income trading at Deutsche Bank AG's private-wealth management unit in New York. "It just creates uncertainty."
Rauner vetoed $4 billion in spending last week, calling the $36.3 billion budget sent to him in May "unbalanced and therefore unconstitutional." However, Rauner did sign school-aid payments.
Illinois has the lowest credit rating of U.S. states. About $20 million of Illinois debt exempt from federal taxes that matures in May 2025 changed hands on the last day of the fiscal year at an average yield of 4.08 percent, the highest since the bonds were sold in May 2014, according to data compiled by Bloomberg.
That's about 1.9 percentage points above benchmark munis, the widest spread since the securities were issued.
Before it's here, it's on the Bloomberg Terminal.
LEARN MORE