De Blasio 'Disappointed' as Cuomo Friendship Turns to Feud
Freeman Klopott and Henry Goldman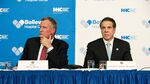 This honeymoon is so over.
After being criticized as "bumbling and incompetent" by an anonymous senior official in Governor Andrew Cuomo's administration, New York Mayor Bill de Blasio fired back. He called the City Hall press corps into his office Tuesday and let loose on his fellow Democrat, whom he's known for 20 years.
"I started with the hope of a very strong partnership," said de Blasio, who took office in 2014. "I have been disappointed at every turn."
The feud became increasingly rancorous over the past month as de Blasio pressed lawmakers in Albany for stronger rent regulations, new rules for a tax abatement for developers who build affordable housing and permanent control of the city's schools. Cuomo, with the help of Republicans who control the Senate, stymied de Blasio.
"For those new to the process, it takes coalition building and compromise to get things done in government," Melissa DeRosa, a Cuomo spokeswoman, said in an e-mailed statement after de Blasio's remarks.
The pair, who worked together in the U.S. Housing and Urban Development Department when Cuomo ran it for President Bill Clinton, were at odds from the moment the mayor took office. Cuomo refused to support de Blasio's signature income-tax increase on the wealthy to fund universal pre-kindergarten, undermining the imagery de Blasio crafted on the campaign trail of closing the divide between rich and poor.
'On Background'
The hostility boiled over last week when a Cuomo official, speaking to news outlets without attribution, said de Blasio still didn't understand Albany. The Wall Street Journal quoted the official saying, "What we're dealing with is a mayor who is universally acknowledged to be bumbling and incompetent."
At a June 25 press briefing, a New York Times reporter asked Cuomo whether similar derogatory comments came from him. He didn't deny it.
"I said a lot of things yesterday," Cuomo said. "Sometimes we talk on the record, sometimes we talk on background."
De Blasio said Tuesday that despite the fighting, he got much of what he wanted with the tax abatement. He said mayoral control of the schools, "turned into a political football." He said he couldn't find any senators, Republican or Democrat, who supported just a one-year extension. Cuomo had said publicly he supported a three-year extension.
"The governor's influence played substantially in their decision to limit it to one year," de Blasio said. "We have to work very hard to get Albany back to the substance, get it back to what semblance of normal government looks like."
Getting it done with Cuomo and his penchant for retribution will require a sustained grassroots effort, the mayor said.
"If someone disagrees with him openly, some kind of revenge vendetta follows," de Blasio said in an interview with NY1 television.
Later, he told reporters, "I won't be surprised if some of these statements lead to some attempts at revenge."
De Blasio is leaving with his family on an eight-day vacation to the U.S. West and Southwest.
"We wish the mayor well on his vacation," DeRosa said.
Before it's here, it's on the Bloomberg Terminal.
LEARN MORE