Rand Paul Questions Government's Role in Marriage After Supreme Court Decision
He weighs in on the legalization of same-sex marriage nationwide.
by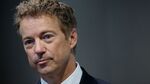 Republican presidential candidate Rand Paul has weighed in on the Supreme Court's same-sex marriage decision, saying the federal government should not play a role in recognizing marriages at all.
"While I disagree with Supreme Court's redefinition of marriage, I believe that all Americans have the right to contract," the Kentucky senator said in a Time op-ed published Sunday titled "Government Should Get Out of the Marriage Business Altogether."
"The government should not prevent people from making contracts but that does not mean that the government must confer a special imprimatur upon a new definition of marriage," he continued. "Perhaps the time has come to examine whether or not governmental recognition of marriage is a good idea, for either party."
Like many of his GOP primary rivals, Paul emphasized the need to protect religious freedom in the wake of the ruling, which legalized same-sex marriage nationwide.
"Some have argued that the Supreme Court's ruling will now involve the police power of the state in churches, church schools, church hospitals," he said. "This may well become the next step, and I for one will stand ready to resist any intrusion of government into the religious sphere."
Paul's silence in the day following the Supreme Court decision drew attention. His approach stood in contrast to those of many competitors and "to his voluble response on Thursday, when the justices upheld a key part of the Affordable Care Act," Politico wrote, and "fits the pattern" set when he initially remained quiet about 2012 nominee Mitt Romney's call to remove the Confederate flag from South Carolina state capitol grounds.
Before it's here, it's on the Bloomberg Terminal.
LEARN MORE