Kasich Sets July 21 as Date to Jump Into 2016 Presidential Race
The Ohio governor and former managing director for Lehman Brothers has been pitching himself as someone who could go to Washington and get things done.
by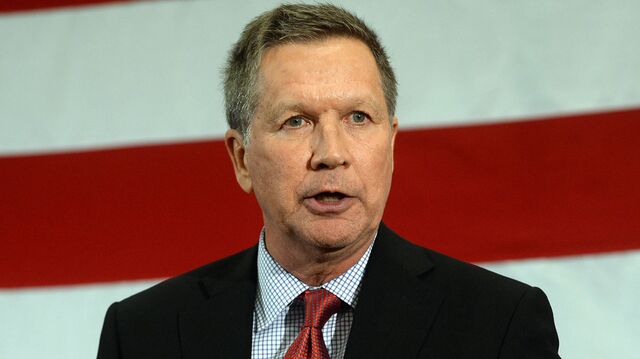 Ohio Governor John Kasich plans to announce his bid for the Republican presidential nomination on July 21 at the Ohio State University student union in Columbus.
The news, first reported by Politico, was confirmed by a source familiar with the governor's plans who wasn't authorized to speak publicly.
Kasich has been traveling in recent months to the early voting states of New Hampshire, South Carolina and Iowa, saying he's deciding whether he can meet fundraising and organizational benchmarks to be competitive in a crowded field.
"Are there too many things aligned against somebody like me to win?" Kasich asked during a speech in Council Bluffs during his first trip to Iowa on June 24. "I don't think so."
Thirteen Republicans have announced so far. New Jersey Governor Chris Christie will announce his run for president Tuesday, according to two people with knowledge of the plan, and Wisconsin Governor Scott Walker has said he's looking at the week of July 13 for an announcement about an expected run.
Kasich, 63, a two-term governor and former congressman who also was a managing director for Lehman Brothers Holdings Inc. and a Fox television host, has been emphasizing his record of legislative and executive experience as someone who could go to Washington and get things done.
The governor has positioned himself as a collaborative leader and "change agent" who can balance budgets and cut taxes while also helping the mentally ill and those "in the shadows" of society.
Battleground State
He's also a popular Republican from Ohio, a presidential battleground state that Democratic President Barack Obama won twice. No Republican has reached the White House without carrying Ohio.
Kasich, who got little traction against George W. Bush when they both ran for president in 1999, has said he thought the same thing would happen this year with the former president's younger brother, Jeb, the former Florida governor.
After making trips to the early primary states, though, and seeing Bush fail to dominate the field, "all of sudden, I'm getting a sense that maybe there's a path for me to do this," Kasich said a June 5 speech in Lebanon, New Hampshire.
Kasich would start near the bottom if he ran, based on recent polls. A May 30 Bloomberg Politics/Des Moines Register Iowa Poll showed Kasich well behind the leaders, at 2 percent.
The governor has said he would do better in polls if he were an official candidate. The top 10 candidates in an average of five national polls will participate in the first Republican debate Aug. 6 in Cleveland.
Before it's here, it's on the Bloomberg Terminal.
LEARN MORE