Hillary Clinton Calls on Republicans to Abandon Gay-Marriage Fight
She says it's time for opponents to move on to other issues.
by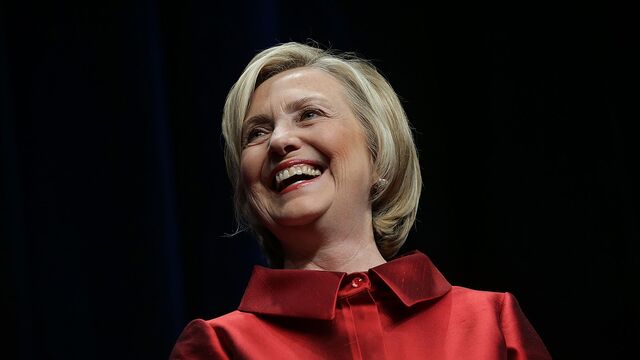 Hillary Clinton, at the end of what she described as "an emotional roller-coaster of a day," called on Republicans running for president to stop opposing the expansion of gay rights and move on to other issues.
"Instead of trying to turn back the clock, they should be joining us in saying, 'No, no to discrimination once and for all,'" the Democratic presidential frontrunner said at an evening gathering of the Democratic Party of Virginia held in the Washington suburb of Fairfax. "I'm asking them, 'Please don't make the rights, the hopes of any American into a political football for this 2016 campaign.'"
Clinton's comments came after Supreme Court's Friday ruling in favor of legal same-sex marriage in all 50 states, which drew angry responses from GOP presidential hopefuls, including several who proposed a constitutional amendment to roll back the high court's decision.
"We can sum up the message from the court and the American people in just two words: Move on," she said.
"This morning, love triumphed in the highest court in our land," Clinton told the 2,000 people who streamed into a partitioned section of George Mason University's Patriot Center. "Equality triumphed. America triumphed."
Though there were reports of free tickets being distributed, Virginia Democrats said they raised more than $1 million with Friday's event. The food for most attendees came from arena concession stands selling fried specialties and $10 beers. Almost everyone who took the stage before Clinton – including Virginia Governor Terry McAuliffe, Senators Mark Warner and Tim Kaine, and Representatives Gerry Connolly and Bobby Scott – endorsed her presidential bid, even as the primary heats up. Mentions of Clinton, let alone the appearance on stage of the candidate, drew roaring cheers from dedicated Virginia partisans.
Just before the event, which was more rally than dinner party, Clinton was witness to a more solemn moment, for the funeral of state senator and pastor Clementa Pinckney, who was killed in last week's mass shooting at his church in Charleston, S.C.
At the funeral, she said, she was "stirred" by President Barack Obama's words. And she's been encouraged by the signs of support and togetherness coming from Democrats and Republicans alike since the church killings.
Clinton also stressed her support for tighter gun laws and attacked congressional Republicans for opposing a bill funding Centers for Disease Control research on gun violence. "I for one am never going to stop fighting for a better, smarter, safer approach to getting the gun violence in this country under control," she said.
Clinton spent more time talking about the happier news of the day. On marriage, "we've been working toward equality as a nation" for decades, since before the Supreme Court's ruling on interracial marriage in 1967's Loving v. Virginia, she said. Ultimately, the high court ruled Friday, "that equality has been right there in the Constitution all along."
Friday's ruling is just one more step in securing equal rights for gay, lesbian, bisexual and transgender people, she said. "Let's be honest: despite today's ruling, our fight to end LGBT discrimination is far from finished. That's because fear and hatred are far from finished. And so our march goes on."
Clinton nodded at the push for federal employment nondiscrimination laws as a next step for the gay rights movement.
She also applauded the Supreme Court's Thursday ruling on the Affordable Care Act, which she said confirmed what she already knew, that "it is settled law and here to stay."
Clinton was introduced by McAuliffe, a longtime family friend, who was a major fundraiser for her husband, Bill Clinton's campaigns for president and her own previous races and is expected to again play a substantial role, despite his day job. McAuliffe recalled vacations that he and his wife Dorothy have taken with the Clintons, and said that when it gets to evening and he's looking to have a beer, it's Hillary Clinton who he seeks out.
"She's a lot more fun than Bill Clinton is. And I love him too!"
Before it's here, it's on the Bloomberg Terminal.
LEARN MORE