Why Rooting for the U.S. Women's Soccer Team Is Your Patriotic Duty
In our fractured civic culture, waving a flag for the women's team is one of the few things everyone can agree on.
by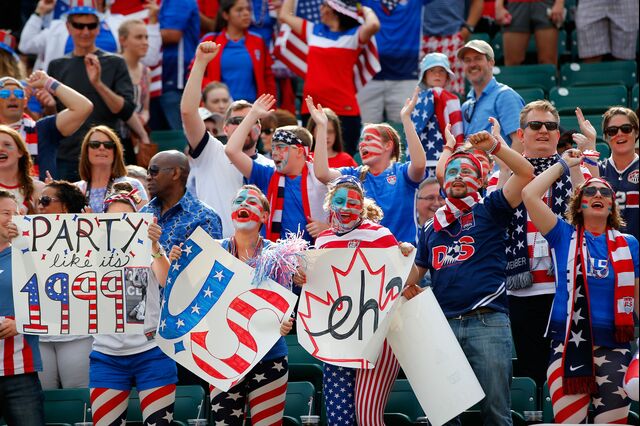 Like the rest of our culture, the world of sports has become increasingly politicized and polarized in recent years. Cheering for certain teams, or even sports, can begin to feel like an ideological act. (Being a Patriots or a Cardinals fan these days resembles an act of civic defiance.) Sports are supposed to be unifying; two people standing next to each other in the stands might disagree on every issue on the planet, but if they're wearing the same team's hat, they're best friends. But it's tougher these days.
Which is why you should spend this evening, and every evening you have left until the tournament is over (the quarterfinals against China are tonight, with the semifinals on Tuesday), watching the U.S. women's soccer team in the Women's World Cup. It can be difficult, in our everyday lives, to find reasons to be openly encouraging of America, no matter how deep your love of your country: There's always someone to tell you what's wrong with it, and there's always work to be done. But in international soccer, on the grandest stage of the sport, we can all be unironic, full-throated, flag-waving, face-painting patriots. The USWNT is your invitation to scream for your country in a way most people are usually just yelling at it. Here are reasons to get on board.
It's something everyone can agree on. If you are a Yankees fan, this tells us something about you, something some people will like and other people will not; same with the Red Sox, or the Cowboys, or the Cardinals, or Duke. But cheering for a national team is a unifying experience: All it says is that you are an American. On an everyday basis, in a non-sports context, the type of person who wears an American flag on their shirt, or their hat, or their face, is a very specific type of person. But during a World Cup event, everybody dons the red, white, and blue. I've referred to this in the past as "hipster patriotism," but it's patriotism nonetheless, and there's something about an international competition that isn't the Olympics that makes it that much more exciting. (The Olympics are great and all, but there's almost too much happening. The World Cup is one tournament, with the live-or-die thrill of a bracket—beat Cameroon, or go home.) How many opportunities in your life do you get to chant "USA! USA!"? This is one of those opportunities.
The team is good. The U.S. men's soccer team is still a couple of decades behind the rest of the world, so even though they're making strides, they haven't yet been serious contenders to win the World Cup. But the women are one of the best teams in the world; along with Germany and France—one of whom will be their semifinals opponent—they're one of the favorites to win this thing. Cheering for the men's team is fun, but ultimately limiting, because you know a loss is coming; you're just trying to hold it off as long as you can. But here, you could be rooting for a champion. Plus, there's drama involved: Despite all their historical success, the USWNT hasn't won the World Cup since that famous Brandi Chastain Sports Bra 1999 team. Abby Wambach is one of the best women's soccer players of all time, but she's never won a World Cup. This is her last chance. Is she John Elway, or Dan Marino? We'll know in the next two weeks.
Women's sports need your support. No one wants to feel like watching sports is some sort of good-deed obligation, some sort of cultural vegetables  ... but the best way to support women's sports—your sports, your daughter's sports—is to watch the most high-profile women's sporting event there is. The games are extremely fun and competitive, but you can also pat yourself on the back: It's rare you get to feel better about yourself simply for drinking a beer and watching a game, but here, you can.
There's nothing like screaming with hundreds of like-minded fans at a bar. Seriously, get to a watch party tonight. (They're everywhere.) It's so rare, in our combative society, to have a truly collective sports experience, but you'll have one tonight. No matter who you're talking to, unless you're actually sitting with a Chinese national, they'll be rooting for the U.S. tonight. This turns into a specific sort of giddiness in a public square: It can lead to unalloyed, chaotic, beautiful joy. Last year, John Brooks scored a header goal against Ghana to give the U.S one of their biggest wins in American soccer history. Here is how people reacted.
You could be a part of that tonight, and if they win, for the next week. How often do you hug people because America did something great? Here is your chance.
Before it's here, it's on the Bloomberg Terminal.
LEARN MORE