Ted Cruz on Rulings: 'Some of the Darkest 24 Hours in Our Nation's History'
More than any other 2016 Republican presidential candidate, he has made religious liberty and gay marriage the articles of his long-shot bid.
by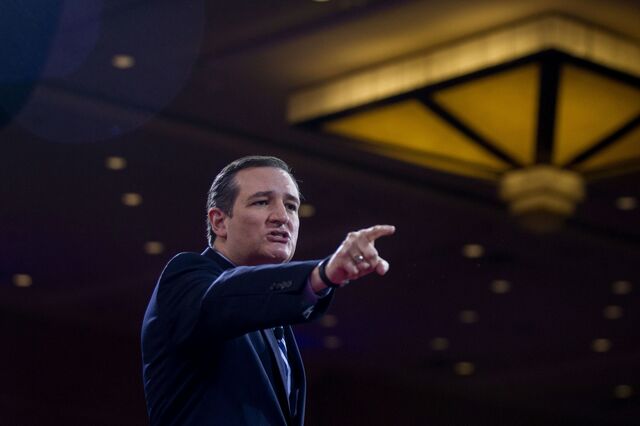 More than any other 2016 Republican presidential candidate, Ted Cruz has made religious liberty and gay marriage the articles of his long-shot bid. So it was baffling that the Texas senator took so long to respond to Friday's Supreme Court ruling affirming gay marriage.
After five hours, he finally emerged on Sean Hannity's show to declare this "some of the darkest 24 hours in our nation's history."
In the meantime, Cruz's top competitors for the evangelical Christian vote—including former Arkansas Governor Mike Huckabee, Louisiana Governor Bobby Jindal, and former Pennsylvania Senator Rick Santorum—grabbed headlines with their criticism of the 5-4 ruling that brings gay weddings to the last 14 states where they were still banned.
With his response, guaranteed to reach his party's most conservative flock, Cruz did not disappoint those fuming over the decision.
The court, said Cruz, will not have the final say and he cited "a number of recourses we have," including legislation he's sponsoring that would create a constitutional amendment shielding from legal action states that still bar gay marriage.
Even so, he acknowledged, "there aren't a whole lot of Republicans in Congress willing to stand and fight." Cruz's bill stands almost no chance of becoming law since he would also need Senate Democratic support to reach the 60-vote threshold needed to advance most legislation.
In a National Review op-ed published Friday evening, Cruz said he would propose a constitutional amendment to put Supreme Court justices' fates into voters' hands.
"In order to provide the people themselves with a constitutional remedy to the problem of judicial activism and the means for throwing off judicial tyrants, I am proposing an amendment to the United States Constitution that would subject the justices of the Supreme Court to periodic judicial-retention elections," Cruz wrote. "As a constitutional conservative, I do not make this proposal lightly. ... But, sadly, the Court's hubris and thirst for power have reached unprecedented levels."
The fact that he planned a media strategy around his response—withholding it until his appearance on Hannity's show—speaks to the outsized role the gay marriage issue will continue to play in his bid for the White House. While Cruz is an underdog in the Republican field, his advisers see a path to the nomination if he can broaden his base supporters beyond limited-government, Tea Party-aligned conservatives to include evangelical voters, particularly in the early-voting state of Iowa.
In a speech last week before a Washington gathering of faith activists, Cruz said the 2016 election would be the "religious liberty election" and called on the audience to pray the Supreme Court rules against same-sex weddings. "Religious liberty has never been more threatened in America than right now today," said Cruz. And he hectored his opponents for their timidity on the issue.
Before it's here, it's on the Bloomberg Terminal.
LEARN MORE