Jeb Bush Tries to Win Without Speaking to His Favorite Strategist
All the major candidates in the 2016 race will have super PACs working on their behalf, but Jeb Bush and Mike Murphy are trying something unprecedented in U.S. presidential elections.
by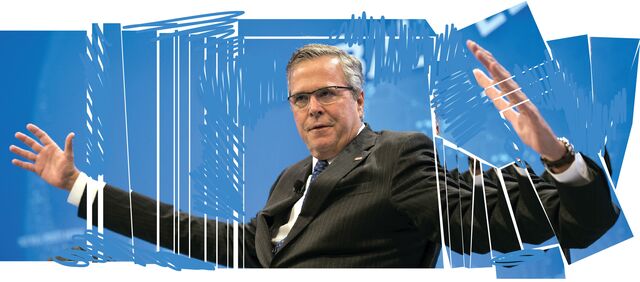 The singular failure of Jeb Bush's political career was his 1994 loss in the Florida governor's race by less than two percentage points. The defeat cast Bush, a rising Republican star, into the political wilderness just as his older brother, George, won an upset victory over Ann Richards in Texas, putting him on the path to the presidency. When Jeb ran again in 1998, he brought in Mike Murphy, an ad man credited with helping John Engler and Christine Todd Whitman win governorships in Michigan and New Jersey. Bush won by more than 10 points. He had Murphy at his side as he cruised to reelection in 2002. Now he's trying to win the presidency without his favorite strategist whispering in his ear.
Murphy is in charge of Right to Rise, a super PAC created to get Bush elected. Because of regulations requiring a separation between candidates and super PACs, they can't formally coordinate their efforts between now and the election. All the major candidates in the 2016 race will have super PACs working on their behalf, but Bush and Murphy are trying something unprecedented in U.S. presidential elections: building a separate, and better-funded, organization that will in some ways eclipse the official campaign as a vehicle for promoting the candidate. Murphy's Los Angeles-based team will produce digital marketing, television ads, and opposition research on behalf of Bush, whose campaign headquarters are across the country in Miami. "He's a good friend, and I'm going to miss him," Bush says. "I hope to see him on election night and give him an embrace. But from here on out, I won't be talking to him."
Unlike the campaign, the super PAC can accept unlimited contributions. Bush spent the months before announcing his candidacy on June 15 taking in tens of millions of dollars for the group, which will report how much it's raised in mid-July. He has been the featured guest at least 39 times for Right to Rise fundraisers, according to invitations compiled by the Sunlight Foundation. The list includes events where the suggested donation was $100,000 a person in Chicago, Miami, and New York. Going forward, he'll be allowed to appear at the group's events as a guest, but he can't discuss strategy or coordinate with Murphy directly.
For Murphy, who declined to be interviewed, the setup offers some clear benefits. For one thing, he'll be the autonomous ruler of the super PAC staff, free of the office politics of the campaign. He plans to use his own Virginia-based consulting company, Revolution Agency, to produce TV ads and a digital marketing effort to reach voters via social media and text messaging. In a June 17 conference call with donors, Murphy said he was no longer coordinating with the campaign but was "well informed as of a week ago" about Bush's strategy. He said Right to Rise would focus on fundraising this year, holding on to most of its cash until primaries begin in early 2016—though Murphy said Right to Rise would "do a few frugal, highly targeted things to help boost the governor's narrative" this summer, as the candidate travels around the country meeting voters.
The call, which was reported by BuzzFeed, illustrates the limits of the no-coordination rules. In the midterms, candidates and super PACs devised numerous tactics for telegraphing their strategies. One was tipping off mainstream news organizations to ad buys or strategic shifts. American Crossroads, a major Republican super PAC, and other groups used Twitter to share polling data with party committees, posting tweets filled with cryptic strings of data—in one case from an account named for a West Wing character. Aides to the Democratic Senatorial Campaign Committee tweeted a link to ad scripts devised by New Hampshire Senator Jeanne Shaheen's campaign that were used by Senate Majority PAC, the largest outside Democratic group. "If Bush's chief strategist is doing conference calls to lay out exactly what the plan is and how that's part of the campaign, then there is no independence," says Bill Burton, a co-founder of Priorities USA, a Democratic super PAC created in 2012 to support President Obama's reelection that's now working for Hillary Clinton. (Burton is no longer involved.) "That's not to suggest Mike Murphy and the Bush campaign or anyone is breaking the laws. It's just that the law is really stupid."
Bush says his campaign and Right to Rise are on parallel tracks. "I don't think we're exporting any responsibilities," he says. The campaign already has staff on the ground in Iowa, Nevada, New Hampshire, and South Carolina. Right to Rise staffers have been trailing Bush and his events for months, stockpiling footage for ads. "The super PAC? We'll see what they do," Bush says. "I hope it enhances the message that I hope to bring."
Bush's top adviser on the campaign is Sally Bradshaw, who has been working with him since his father's presidential campaign in 1992. Murphy, who also worked on the 1992 campaign, is a foil for Bush, who sometimes struggles to tell a joke but has a keen appreciation for the role humor can play in buoying or tanking a campaign. In the 1998 governor's race, when Bush faced off against a Democrat named Buddy MacKay, Murphy came up with a simple tag line: "He's not your buddy." The line, or a version of it, was used in every possible ad. "That's a great example of Mike's creativity," says Cory Tilley, a Tallahassee political operative who handled communications for Bush in his Florida races. "That took the edge off some so it didn't look like a down-in-the-gutter attack." One TV spot accused MacKay and Florida Democrats of being soft on crime because they'd relaxed sentencing laws to address prison overcrowding. "Thanks, Buddy," said a burglar in the commercial.
Along with Bradshaw, Murphy has been able to tell Bush when he's strayed off course—or help him regain focus after campaign setbacks. "Murphy is one of the few people that Jeb can hear that from and believe it," says Brian Crowley, a Florida political analyst.
Phil Mattingly contributed to this report.
Before it's here, it's on the Bloomberg Terminal.
LEARN MORE