Obama Celebrates 'Those Countless, Often Anonymous Heroes' Who Pushed Gay Marriage
Margaret Talev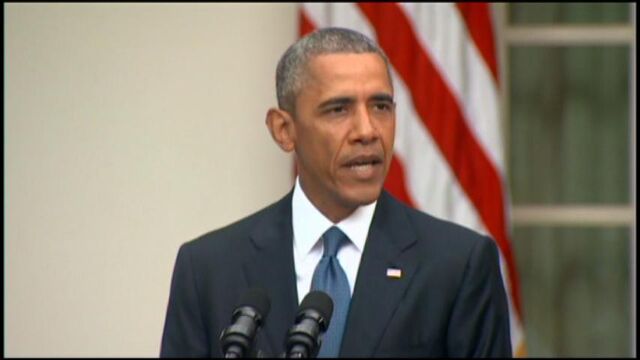 The U.S. Supreme Court's ruling that gay marriage is legal nationwide is a "victory for America," President Barack Obama said, declaring that justice had arrived for same-sex couples "like a thunderbolt."
During a short speech Friday in the White House Rose Garden, Obama called the decision the culmination of decades of activism by proponents of same-sex marriage. "Those countless, often anonymous heroes, they deserve our thanks," he said. "They should be very proud."
The court ruled 5-4 that gay marriage is legal in every state and that all states must recognize marriages performed in any other. Justice Anthony Kennedy, a Republican appointee to the court, was joined by the four Democratic appointees in the majority opinion.
America's quest for equality, Obama said in his remarks, often comes as "two steps forward, one step back, propelled by the persistent effort of dedicated citizens.
''And then sometimes, there are days like this when that slow, steady effort is rewarded with justice that arrives like a thunderbolt,'' he said.
The ruling generated reaction from 2016 presidential candidates. Democrat Hillary Clinton said that the decision ''represents our country at its best.'' Republican Jeb Bush said he still believes in ''traditional marriage'' as a matter of his faith and that ''the Supreme Court should have allowed the states to make this decision.'' Republican Bobby Jindal, governor of Louisiana, said the ruling ''will pave the way for an all-out assault against the religious freedom rights of Christians who disagree with this decision.''
The north side of the White House was lit Friday evening with multicolored lights to celebrate the decision.
Consequential Stretch
The opinion came a day after the court ruled 6-3 to again uphold a key provision of Obama's signature legislative achievement, the Affordable Care Act, which broadly expanded health insurance coverage for Americans. Kennedy was also part of the majority in that case.
The victories at the court are part of one of the most consequential stretches of Obama's presidency. Congress this week agreed to give him broad authority to negotiate trade deals, and the U.S. is in final negotiations in what may be a historic deal to freeze Iran's nuclear weapons program.
Minutes after his remarks on the gay marriage decision, Obama left the White House for Charleston, South Carolina, to deliver the eulogy for State Senator Clementa Pinckney, one of the nine victims of a mass shooting at Emanuel AME Church. The shooting at the black church, allegedly by Dylann Storm Roof, a 21-year-old, who is white, is being investigated as a hate crime.
The shooting turned Republican governors of South Carolina and Alabama against state-sponsored displays of the Confederate flag and gave Obama an opportunity to renew his call for stronger gun control.
'Real Change'
''Today should also give us hope that on the many issues with which we grapple, often painfully, real change is possible," Obama said in his remarks on gay marriage.
Obama telephoned the lead plaintiff in the same-sex marriage case, Jim Obergefell. Audio of the call was broadcast by CNN, which was in the middle of an interview with Obergefell when the president rang.
"Your leadership on this issue, you know, has changed the country," Obama told him. "I couldn't be prouder of you and your husband. God bless you."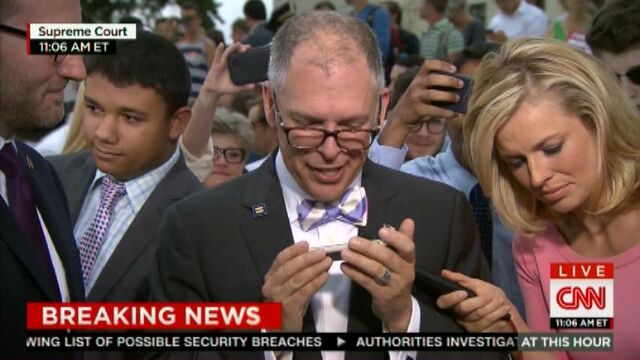 Before it's here, it's on the Bloomberg Terminal.
LEARN MORE