Should Political Campaigns Stop Using Free Labor?
Controversy flares over unpaid workers in Hillary Clinton's campaign.
by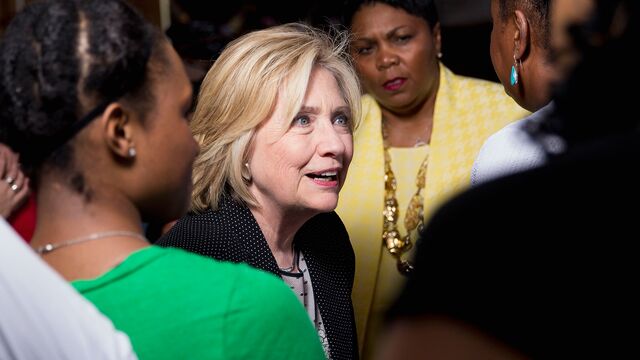 Carolyn Osorio, who graduated from Pratt Institute in 2013, seems to be a one-woman weapon against the axiom of apathetic millennials: She's a young person of political passion. In an op-ed column published Wednesday in USA Today, she describes high-school nights spent sleeping in a Hillary for America t-shirt and tears shed upon Clinton's concession to Barack Obama.
When Clinton announced her intention to seek the presidency in 2016, Osorio practically vaulted on board.  "I quickly applied for and was offered a position as a Hillary for America fellow to work on the campaign," she writes. "I couldn't have been more excited—until I was told I'd have to move to Nevada and work full time on my own dime."
Hillary Clinton's young campaign prides itself on a kind of thriftiness. Her campaign manager Robby Mook has reportedly boasted to donors and staff alike that he is "really, really cheap." Staff members, according to the Washington Post, are using personal cellphones for work. And the other day, campaign chairman John Podesta got from Manhattan to D.C. by Vamoose bus: a $30 ride. He called it "solidarity."
This may be what the candidate herself was going for, in her decision to road trip from New York to Iowa in a clunky van called "Scooby," as soon as her campaign officially launched. Nowadays, she's mostly flying commercial.
Since Osorio graduated from college, with a degree in art theory, criticism, and history, she hasn't found a job. "Two straight years of unemployment," she writes. She hoped that Clinton would at least pay minimum wage to the people who work for her (and not short hours, either). "I had hoped a trailblazer would be more willing to break the mold of indentured servitude that haunts my generation," Osorio writes. "Finding out that Hillary perpetuates the exploitation known as unpaid internships was like discovering that Santa wasn't real."
Osorio points to a broader issue: What kind of a job is it, to pitch in on a political campaign? And shouldn't remuneration be explicit?
"We're thrilled to welcome volunteers for the summer, just like other campaigns in both parties have done in the past," Jesse Ferguson, a spokesperson for Clinton, wrote to me by e-mail. "Many successful fellows from a similar program during the Obama campaign now work with us on this campaign and we're sure the same will be true with many from this  group. The latest evidence of the intense grassroots interest in Hillary Clinton's campaign comes from the tremendous interest in our fellows program."
Clinton's camp has lately received a spate of negative attention for the reliance on "free labor." But its practices are far from unusual. Volunteers and interns are the backbones of the modern political campaign. Obama's team had this kind of program in both 2008 and 2012, and it helped them dominate. The Republican National Committee has launched a similar program to train volunteers and staffers, perhaps as a kind of catchup.
Osorio says she'll vote for Clinton anyway, but she believed she would be paid.
Rachel Bien, a lawyer at Outten and Golden who specializes in wage violations, said these kinds of presumptions or implications matter when courts evaluate the totality of the circumstances in determining whether a position is volunteer, or a job (which should be paid). "To the extent that the relationship looks more like an employment relationship because you have to complete an application, you're screened, you're meeting prerequisites, it looks more like a job or employment situation than a volunteer position that's open to anyone who wants to volunteer regardless of background, education, situation, etcetera," she said by phone Wednesday. 
Michael Harper, a scholar of labor relations at the Boston University School of Law, sees political volunteering as elementally different from regular employment. "It would be inappropriate to apply the standards of the Fair Labor Standards Act to voluntary activity on political campaigns—which is First Amendment activity that we don't want to monetize," he said. 
Neither Harper nor Bien knew of exact precedent in the legal system, when it came to volunteers. But Bien mentioned the Supreme Court ruling in 1985, in Tony and Susan Alamo Foundation v. Secretary of Labor, which upheld the Department of Labor's finding that the religious organization had violated the minimum wage, overtime, and record-keeping provisions of the Fair Labor Standards Act even though the volunteers considered themselves volunteers; the conditions of their compensation—food, clothing, shelter, and other benefits—made it an employment relationship.
"The government has created a whole lot of exceptions for itself," Bien said. Osorio herself, in her column, acknowledges how common unpaid work is in the political industry. "At the same time the administration was cracking down on unpaid internships in the private sector, it continued not paying the 300 annual interns in the White House," she wrote.
Bien said she considers the matter Osorio raises "really problematic—especially coming from someone like Hillary Clinton who has been really supportive of minimum wage laws and has publicly called on businesses to pay interns. When you have young people—many of whom can't find employment, as Hillary recognizes—working long hours, day in and day out, to help, at the end of the day someone needs to be supporting them. The burden otherwise falls on family or the government." 
"I hope that Hillary will reconsider what she's doing here and will pay her interns," she said.  "It would set a great precedent."
Before it's here, it's on the Bloomberg Terminal.
LEARN MORE