Obama, Democrats Suit Up for Latest Tussle on Trade
Carter Dougherty and Angela Greiling Keane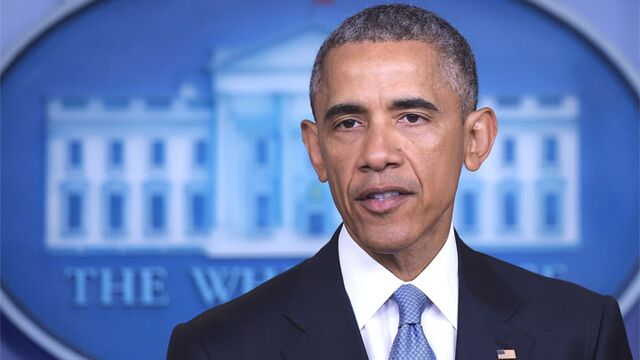 After battling his own party over trade policy for months, President Barack Obama has won a prize no politician would envy: another fight with his friends.
Congressional approval of fast-track negotiating authority Wednesday after six months of cajoling by Obama is just one step on the way to what he lauds as a landmark, 12-nation free-trade agreement with Pacific Rim countries.
Democrats and liberal groups are already promising a new fight if and when the actual trade pact, known as the Trans-Pacific Partnership, comes to a vote. That could be early next year just as the campaign to succeed Obama gets into full swing, putting Hillary Clinton, the Democratic frontrunner, on the spot with labor unions and other core constituencies.
"We all recognize that the next debate will be over Trans-Pacific Partnership itself," House Minority Leader Nancy Pelosi of California, who opposed the fast-track measure, wrote Wednesday in a letter to fellow lawmakers. She predicted a "lively and thoughtful debate" among Democrats.
Both trade policy and relations with China -- a country pointedly not part of the trade negotiations -- will be topics for the 2016 races for president and Congress. The White House wants to complete a deal this year, and Japanese Economy Minister Akira Amari said Wednesday it might wrap up at a meeting of trade ministers in July.
'Most Challenging'
U.S. Trade Representative Michael Froman declined to comment on the Japanese timetable, saying the countries still need to resolve "the remaining, most challenging issues" in the TPP talks.
"Everybody wants to get it done as soon as possible, but consistent with the objectives we've set for ourselves," Froman said at a conference in Washington on Thursday.
Simon Rosenberg, president of the New Democratic Network, a Democratic-leaning research group that supports Obama's trade agenda, said "the debate has only begun" on the pact. "The debate will shift from the abstract discussion of trade to a very specific discussion of TPP," Rosenberg said.
Trade is an issue that has divided Democrats since 1994, when the North American Free Trade Agreement, the deal U.S. labor unions blame for millions of manufacturing job losses, took effect. Clinton's husband, then-President Bill Clinton, signed NAFTA and wrangled it through Congress.
Obama praised Congress for its votes this week. "Of course, we still have more work to do on behalf of our workers, which is why I'll continue to encourage Congress to pass robust trade-enforcement legislation that will help us crack down on countries that break the rules," he said in an e-mailed statement Thursday. "But this week's votes represent a much-needed win for hardworking American families."
Tacking Left
Obama is "looking forward" to signing the fast-track legislation, said White House press secretary Josh Earnest, who declined to comment on whether that will be done in private or at a ceremony with members of Congress.
With the liberal wing of Democrats gaining influence in the party and standing mostly opposed to the next, even bigger, trade deal, Clinton has tacked left. Having once backed the accord as secretary of state, she's now wavering.
"What she made very clear from the beginning is she's going to respect the president and let him bring the deal back and she'll look at it and make up her mind," Rosenberg said. "It's likely she'll be supportive, but she'll use this to remind people that trade policy doesn't operate in an economic vacuum."
Vermont Senator Bernie Sanders, a self-described socialist who is currently Clinton's main challenger for the Democratic presidential nomination, is an unequivocal opponent of the trade deal.
Angering Base
Eric Schinfeld, president of the Washington Council on International Trade in Seattle, said advocates are in a race with presidential politics. "November 2016 will really shape the dynamics of the next trade vote," Schinfeld said.
Still, Julian Zelizer, a professor of history and public affairs at Princeton University, said Obama has no reason not to use the fast-track powers he just obtained, which let him submit trade deals to Congress for a quick, up-or-down majority vote without amendments.
"If you are going to go this far in angering the base of the party then you use the procedure to get the deal or it's not worth it," Zelizer said.
The bill Congress just passed lays out a procedure, including written notifications, a study of the economic impact and limited debate, that could take about six months before a final vote is cast on the agreement.
Business Backed
Froman told a group of CEOs in Washington on June 10 that business will need to gin up something similar to its lobbying effort on fast-track trade authority to get the deal approved by Congress. "It may not be at the same intensity for six months, but that will be a big debate," Froman said.
The business lobby, in turn, wants Obama to keep making the public and private case for the accord, especially to lawmakers, said John Engler, president of the Business Roundtable, which coordinated the business push. Obama's willingness to mobilize top officials, including Defense Secretary Ashton Carter, convinced them he was serious about persuading lawmakers to back fast track.
"A goal of the administration should be to make sure no one can go to the floor and say, 'I didn't know what's in this agreement,'" Engler said in an interview. "There's no time to sit back."
'Anti-Democratic Veil'
Engler also called on the administration to mobilize various industries that may benefit from the Pacific trade deal. Under the pact taking shape, agricultural exporters could ship more to Japan, more American financial services would be for sale in Asia, and Silicon Valley would see restrictions on how governments can curb data flows. The pharmaceutical industry may get stronger patent protection and automakers could see exports rise.
Liberal groups who opposed fast track are vowing to redouble their efforts to defeat the Pacific trade deal, well aware that congressional approval of fast track means Obama can probably complete an agreement with the other nations: Japan, Australia, Brunei, Canada, Chile, Malaysia, Mexico, New Zealand, Peru, Singapore and Vietnam.
"What it doesn't mean is that Congress must pass such a TPP," said Robert Weissman, president of Public Citizen, an advocacy group. "When the inexcusable and anti-democratic veil of secrecy surrounding the TPP is finally lifted, and the American people see what is actually in the agreement, they are going to force their representatives in Washington to vote that deal down."
Before it's here, it's on the Bloomberg Terminal.
LEARN MORE