Kasich Makes the Case for a Practical Conservative in Iowa Trip
Mark Niquette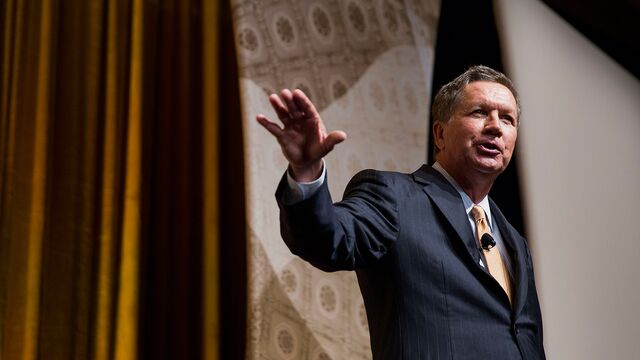 Ohio Governor John Kasich traveled to Iowa for the first time as a potential presidential candidate, making the case that his practical "human" approach to issues doesn't mean he's not conservative enough for Republican voters.
"Are there too many things aligned against somebody like me to win?" Kasich asked during a speech to a small group at Iowa Western Community College in Council Bluffs. "I don't think so."
On the same day that Louisiana Governor Bobby Jindal became the 13th Republican to enter the race for president in 2016 saying he will be a true Christian conservative, Kasich was in Iowa saying he can balance budgets and cut taxes while still caring for the least among us.
Kasich, who is still deciding whether to run, said his moral and practical stance on issues such as immigration and expanding Medicaid under President Barack Obama's health care overhaul, doesn't mean he can't appeal to conservative voters or provide leadership needed to get results in a gridlocked Washington.
"Because I care about people who are addicted and mentally ill?" Kasich told reporters in Council Bluffs when asked whether he's conservative enough for Iowa voters. "How does that make you anything but a conservative?"
Asked about immigration during an appearance at an event sponsored by the Iowa Caucus Consortium in Des Moines, Kasich repeated his position that while he wants a more secure border with Mexico and thinks law-abiding people who came to the U.S. illegally should pay a penalty, he doesn't think it's practical or compassionate to deport them.
"Should they become citizens? I wouldn't favor that," Kasich said. "But I've said I wouldn't take it off the board because if you're going to solve this problem, you've got to have both parties involved."
Border Drop
Earlier, in response to a question from a reporter about what should be done with the 11 million people in the country illegally, Kasich said, "I'm not for putting them on a school bus, driving them to the border, opening the door and just telling them to get out."
That answer, along with his stance on issues such as expanding Medicaid and support for the Common Core education standards, may not sit well with some Republicans voting in the caucuses, said Audrey Rosenberg of Des Moines, 80, who came to hear Kasich speak at the forum.
She said she'll back Kasich if he runs because he is more moderate like she is.
"I know that's a bad word," she said.
Early Primary
Kasich has spent most of his time in the early primary states of New Hampshire and South Carolina. Yesterday's trip to Iowa, which has the first-in-the-nation caucuses, was his first since he ran for president in 1999. It's raised questions about how hard he would run in the state or how competitive he would be there.
While other Republican candidates have made dozens of trips to Iowa, it's not too late for Kasich to mount an effective campaign because there's still no clear front-runner, said Steve Roberts, a Des Moines lawyer and former Iowa Republican state chairman and Republican National Committee member.
"Nobody's caught the comet," he said. "It's still wide open."
Kasich, 63, a two-term governor and former congressman who also was a managing director for Lehman Brothers Holdings Inc. and a Fox television host, has both legislative and executive experience that can set him apart, Roberts said.
"When you're a governor, you can't say, 'the dog ate my homework,'" Kasich said in Des Moines.
Kasich would start near the bottom, based on recent polls. A May 30 Bloomberg Politics/Des Moines Register Iowa Poll showed Kasich well behind the leaders at 2 percent.
Speaking to the group at the Iowa Western Community College, Kasich was asked what he was doing there if he's not a candidate.
"I came here because I wanted to show respect to the people of Iowa, you're very important, and I'm trying to assess whether I can do this," he said. "Is it possible for me to win? Yeah, it is."
Before it's here, it's on the Bloomberg Terminal.
LEARN MORE