House OKs Trade Bill To Give Help To Displaced Workers
Billy House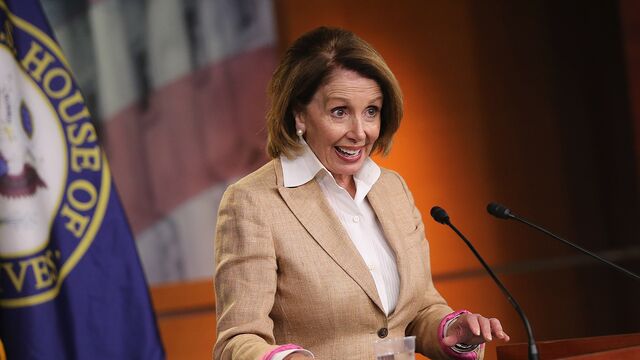 The U.S. House of Representatives passed a $450 million worker-assistance measure Thursday that Democrats earlier helped defeat, sending it to President Barack Obama for his signature as part of a package of trade legislation.
The vote was 286-138. The Trade Adjustment Assistance legislation continues a program that helps U.S. workers who lose their jobs as a result of international trade pacts.
"This week's votes represent a much-needed win for hardworking American families," Obama said in an e-mailed statement. He said he will sign the trade bills as soon as they reach his desk.
"We stand ready to go to the next step," said Democratic leader Nancy Pelosi of California on the House floor before the vote. She said Democratic efforts have helped mobilize attention on the issues surrounding trade pacts, including the effects on U.S. workers and the environment.
She said Democrats will be ready to shine a "bright spotlight" on the details of trade pacts as they come before Congress.
Passage of the worker aid measure was one of the last elements of a hard-fought win by Obama to push through a trade package that is a key second-term priority, even against opposition from his party. His victory was underscored by the Senate's final passage Wednesday of a measure giving him fast-track trade authority.
Up-or-Down Vote
That bill, H.R. 2146, known as trade-promotion authority, would let Obama submit agreements to Congress for an expedited, up-or-down vote without amendments. His administration hopes to complete a 12-country trade deal known as the Trans-Pacific Partnership this year, a major component in rebalancing U.S. foreign policy toward Asia.
The worker-aid measure, H.R. 1295, was attached to an African trade measure.
Other tough battles are on the horizon. Congressional passage of fast-track authority is just one step toward completion of the Pacific trade deal.
Democrats and labor unions are already promising a new fight if and when the trade pact comes to a vote in Congress.
The worker's assistance program had been facing expiration on Sept. 30.
Unpopular with Republicans, Democrats had long supported the program. Yet Pelosi and other House Democrats two weeks ago sought to scuttle the legislation because it had been paired procedurally with the fast-track measure they sought to defeat.
Labor Groups
Some Democrats and labor groups warn such trade deals could cost U.S. jobs. The fast-track authority measure advanced with the help of Republicans who control Congress and who agree with Obama that free-trade agreements benefit the U.S. economy.
"With the passage of the Trade Preferences Extension Act, the final piece of the free trade puzzle is in place," said House Majority Leader Representative Kevin McCarthy, a California Republican. He said Congress now has "a greater seat at the table to ensure the best possible trade deals to benefit American families, consumers, workers and businesses."
Before it's here, it's on the Bloomberg Terminal.
LEARN MORE