Ex-Im Backers to Meet Obama July 8 to Plan How to Revive Bank
Kathleen Miller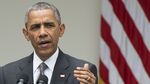 U.S. Export-Import Bank supporters will meet with President Barack Obama July 8 to discuss how to revive the institution's charter, which is set to lapse next week, two Democratic senators said.
If Ex-Im's authorization expires June 30, it won't be able to approve financing of new deals though it can continue work on existing or already underwritten agreements. A lapse in the charter puts as much as $12 billion in U.S. export deals at risk, said Senator Maria Cantwell of Washington state and Senator Heidi Heitkamp of North Dakota.
Both senators said they have been invited to meet with Obama. They weren't sure if Republican supporters of Ex-Im also would attend. Cantwell said she wants to have a plan for a "path forward" on reauthorizing the bank by early July.
Bank supporters say the Senate and House would reauthorize Ex-Im if lawmakers are allowed to vote on the issue. They have struggled so far to get a floor vote on the matter because top Republicans, including the two committee chairmen with oversight of the bank -- House Financial Services Committee Chairman Jeb Hensarling and Senate Banking Chairman Richard Shelby -- oppose extending Ex-Im's charter.
'Priorities Straight'
"Republicans are going to be fundraising off of this," Cantwell said of the bank's expected lapse. "I would ask them to get their priorities straight, be accountable on this and help Americans compete in a global economy."
Senate Majority Leader Mitch McConnell, a Kentucky Republican opposed to reauthorizing the bank's charter, said this week he would allow supporters to combine legislation to reauthorize it with a highway funding bill expected to be considered by the chamber in July.
House Speaker John Boehner, an Ohio Republican, said Wednesday he expects the Senate will attach the bank reauthorization to a "must-pass" bill. He reiterated a commitment to an "open process" that would allow bank opponents to try to block an extension of the Ex-Im charter.
The fight has pitted two Republican constituencies against each other. The U.S. Chamber of Commerce has pushed hard to keep the bank, contending it supports U.S. jobs. Small-government groups including the Club for Growth argue that Ex-Im should go because it interferes with the free market by choosing which deals receive financial backing.
The 81-year-old bank, renewed without controversy for decades, has become a target of conservative Republicans who say it benefits only a few large corporations that don't need government assistance.
Five public U.S. companies -- General Electric Co., Boeing Co., Caterpillar Inc. and units of General Dynamics Corp. and United Technologies Corp. -- had overseas customers who received about $10 billion in loan authorizations or long-term guarantees from the bank last year.
Before it's here, it's on the Bloomberg Terminal.
LEARN MORE