Bernie Sanders Responds to Claire McCaskill Attack: This Is a First
His Senate colleague criticized him as too liberal and unelectable against Hillary Clinton.
by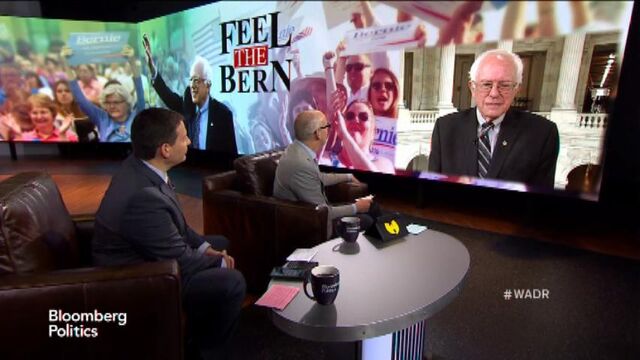 Democratic presidential candidate Bernie Sanders on Thursday responded to criticism from his Senate colleague, Claire McCaskill of Missouri, that he is too liberal to credibly challenge Hillary Clinton.
"To the best of my knowledge, this is the first time that a colleague has attacked me," said Sanders, a Vermont socialist who joined the presidential race about two months ago, in an interview with Bloomberg Politics' Mark Halperin and John Heilemann. "You'll have to ask Senator McCaskill why."
McCaskill, who supported President Obama during the 2008 election, was quick to back Clinton this cycle, and said on MSNBC's Morning Joe Thursday that Sanders "is too liberal to gather enough votes in this country to become president." Her comments came on the heels of Bloomberg Politics polling in Iowa and New Hampshire that showed Sanders gaining ground on Clinton, though the former secretary of state still holds a formidable lead.
"Do I believe, in opposition to Senator McCaskill, that we need trade policies that are fair to the American worker, and not just benefit CEOs and large corporations?" Sanders said. "I plead guilty." 
Sanders said he "absolutely" believes in a single-payer health care system and opposes the Trans-Pacific Partnership. 
McCaskill said the media has given Sanders a pass, especially when it comes to pointing out his political leanings. 
"I find it surprising that she says that the media doesn't refer to me as a socialist," Sanders said. "There's no article that I've seen that doesn't refer to me as a democratic socialist. I am."
Sanders often laments negative advertising and character attacks in modern politics. A super-PAC supporting another Democratic presidential candidate, former Maryland Governor Martin O'Malley, unveiled Web advertising in Iowa on Thursday going after Sanders on gun issues. The candidate tweeted Thursday afternoon: 
See more from the interview with Sanders on Thursday at 5 p.m. ET on Bloomberg TV and BloombergPolitics.com.
Before it's here, it's on the Bloomberg Terminal.
LEARN MORE