A Reversal on One House Republican Purge
Billy House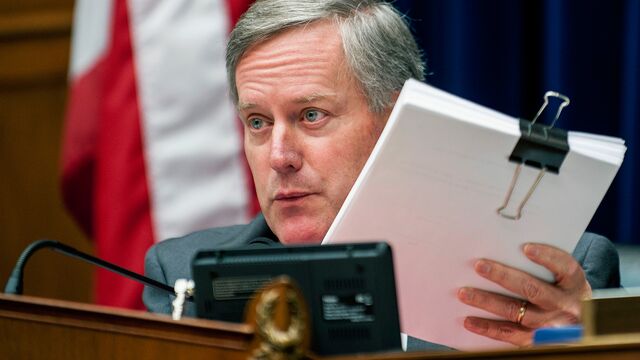 Representative Mark Meadows, a North Carolina Republican punished by party leaders last week for siding against them on a procedural trade vote, has been reinstated as a subcommittee chairman.
"It is in the best interest of this committee to move forward together," said House Oversight and Government Reform Chairman Jason Chaffetz of Utah, announcing that Meadows will resume his role as a chairman of that panel's government operations subcommittee.
In a statement, Meadows said he appreciated Chaffetz's decision, while adding, "I will continue to vote and conduct myself in accordance with my conscience, what my constituents want me to do, and what is best for the country."
In a separate matter, Representative Ken Buck of Colorado remained Thursday as the House Republican freshman class president.
Buck said Wednesday he thought fellow Republican freshmen planned to vote to remove him from that ceremonial position after other those members called a meeting for Thursday to discuss "future leadership."
Yet when meeting was over, Buck remained president of the class of more than 40 freshman Republicans.
"There was no vote taken. They just had a conversation," said Buck's communications director, Katherine Rosario.
Broke Ranks
Meadows and Buck were among the 34 House Republicans who broke ranks with party leaders and voted against a procedural measure on June 11 to advance legislation granting President Barack Obama fast-track trade negotiating authority.
That frustrated House Speaker John Boehner and other Republican leaders. Third-ranking House Republican and chief vote-counter, Steve Scalise of Louisiana, removed from his whip team three Republican lawmakers who also voted against leadership -- Representatives Cynthia Lummis of Wyoming, Steve Pearce of New Mexico and Trent Franks of Arizona.
Then last week Chaffetz decided to remove Meadows from his post.
Some Republicans defended Meadows and Buck, saying the procedural vote at issue carried significant policy implications, and that members should not be punished for voting their conscience on policy.
'Reconsider' Decision
"A number of people have asked me to reconsider," Chaffetz said Thursday in announcing was reversing his decision on Meadows. "Having spoken with Mark Meadows several times during the past week, I think we both better understand each other. I respect Mark and his approach. The discussions and candor have been healthy and productive."
Boehner didn't respond directly when asked about Meadows at a Thursday news conference, deferring questions to Chaffetz.
Franks, Lummis and Pearce have not been returned to the whip team. A longstanding rule for remaining on that team -- predating Scalise as whip -- is that members can vote against the party on underlying legislation yet not against leadership on a procedural rule.
Before it's here, it's on the Bloomberg Terminal.
LEARN MORE