Republicans Will Allow Ex-Im to Expire Under Senate Plan
Kathleen Miller and Kathleen Hunter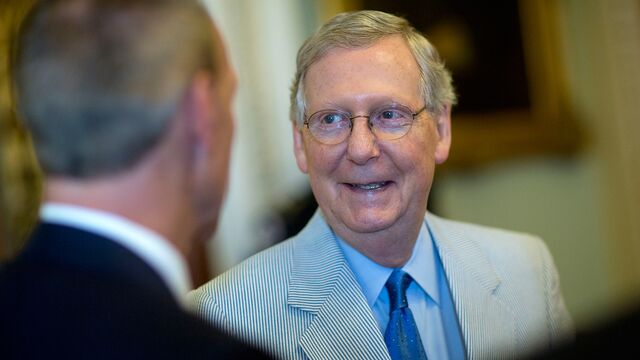 The U.S. Export-Import Bank's charter will lapse next week if the Republican-led Congress follows a path outlined by Senate Majority Leader Mitch McConnell that would delay a vote on reauthorizing the bank until July.
McConnell said Tuesday he won't block efforts to combine legislation reauthorizing Ex-Im with a transportation-funding package. The highway bill is an "obvious" vehicle for the bank, said McConnell, who opposes extending the charter.
The bank is set to lapse June 30, while federal highway funding expires July 31. The bank provides loans, loan guarantees and insurance to aid overseas sales by U.S. companies.
House Speaker John Boehner, an Ohio Republican, said Wednesday he expects the Senate will attach the bank reauthorization to a "must-pass" bill. He reiterated a commitment to an "open process" that would allow bank opponents to try to block an extension of the Ex-Im charter.
The fight has pitted two traditionally Republican constituencies against each other. The U.S. Chamber of Commerce has pushed hard to keep the bank, contending it supports American jobs. Small-government groups like Club for Growth argue that it should go because it interferes with the free market by choosing which deals receive financial backing.
A lapse in the bank's charter would prevent it from approving new financing. It would still be able to administer transactions it has already underwritten.
Force Vote
House Democrats led by Representative Maxine Waters of California, the top member of her party on the Financial Services Committee, tried to force a vote Wednesday on the extending the bank's charter. The chamber voted 243-181 along party lines to reject a legislative tactic that would've compelled lawmakers to consider a bill reauthorizing the bank for seven years.
Bank supporters say the Senate and House would reauthorize Ex-Im if allowed to vote on the issue. They have struggled to get a floor vote on the matter because top Republicans, including the two committee chairmen with oversight of the bank -- House Financial Services Committee Chairman Jeb Hensarling and Senate Banking Chairman Richard Shelby -- oppose extending Ex-Im's charter.
Amendment Withdrawn
The Senate strongly backed reauthorizing the bank in a June 10 test vote, bolstering its supporters' argument that a majority of Congress wants to keep Ex-Im's charter from expiring. That 65-31 vote sought to keep alive a proposed amendment to extend the bank's charter, but the amendment was withdrawn after the roll call.
"I gave the supporters of Ex-Im a chance to demonstrate that the votes are there," McConnell said Tuesday.
The Senate doesn't plan to debate highway trust fund legislation until July.
Don Stewart, a McConnell spokesman, said in an e-mail that the highway legislation was the "next likely bill to be signed" by President Barack Obama.
"People have suggested that would be the bill to amend" with the Export-Import Bank reauthorization, he said.
Senator Lindsey Graham, a South Carolina Republican and Ex-Im Bank supporter, said in May that the bank's charter would probably lapse before being extended as part of the highway funding legislation.
The 81-year-old bank, previously renewed regularly without controversy, has become a target of conservative Republicans who say it benefits only a few large corporations that don't need government assistance.
Five public U.S. companies -- General Electric Co., Boeing Co., Caterpillar Inc. and units of General Dynamics Corp. and United Technologies Corp. -- had overseas customers who received about $10 billion in loan authorizations or long-term guarantees from the bank last year.
Before it's here, it's on the Bloomberg Terminal.
LEARN MORE